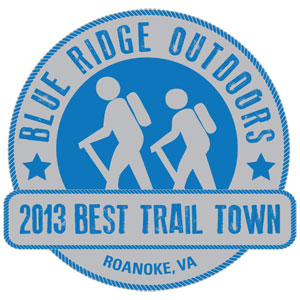 The award winning Roanoke Region.  Has a nice ring.  And it's never been a more apt description of this beautiful area.
Following up on last year's Best Mountain Town honors, the Roanoke Region was named Best Trail Town 2013 by Blue Ridge Outdoors (Best Trail Town of the Blue Ridge).  The accolade was the result of on-line voting promoted by the Roanoke Regional Partnership through its many social media channels.  The message was picked up by other stakeholders who promoted it via their channels as well.
As last year, the support from the community voting shows that Roanoke Region residents and business believe in the outdoors as a valuable commodity. (And the region came in third in Best Beer Town out of 20 other sudsy places).
Look what the magazine had to say: