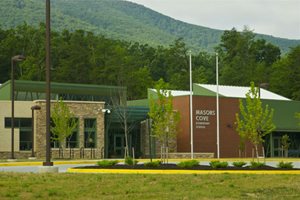 When it comes to green building, Virginia is once again setting the pace with another top 10 ranking in states for LEED green building. After ranking No. 1 in 2012, Virginia ranked 3rd in 2013 in a survey by the U.S. Green Building Council (USGBC), and one building in the Roanoke Region was cited as a big reason why. 
Masons Cove Elementary School in Roanoke County was one of five projects mentioned in the article by Virginia Business as a reason for the state's high ranking. Among other green initiatives, the school features a solar powered hot water tank, geothermal heating and cooling, and a water filtration system. The building is certified as a Gold LEED building by the USGBC, the second highest rating behind platinum. 
The ranking is based on per-capita square feet of LEED certified space in each state. 
Learn more about Virginia's ranking and the state of green building in Virginia >>>