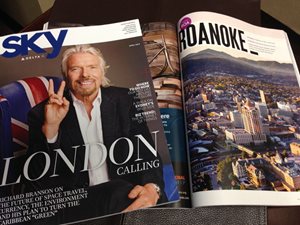 If you fly Delta Airlines this April, you may find some familiar faces in the seatback pocket. Delta's in-flight entertainment magazine Sky profiled the Roanoke Region for the upcoming issue, which features Richard Branson on the cover. 
Split into three parts over 30 pages, the profile features the best the Roanoke Region and the New River Valley have to offer in the realms of business and tourism. Beautiful photos of the area are spread throughout, interspersed with "My Roanoke" sidebars featuring quotes from locals such as Carilion Clinic CEO Nancy Agee, Roanoke Mayor David Bowers, musician Nicole Yun, and Robert Kulp and Mike Whiteside of Black Dog Salvage. 
The feature begins by touting the region's rebound from the Great Recession and its diverse economic turnaround in a section titled "Virginia in the Vanguard." Roanoke's health care industry, higher education, branding of the outdoors, and other factors, were cited as reasons for the region's resurgence over the past decade. 
The second segment of the profile focuses on the tourism industry, outdoor access, and cultural amenities of the region. Along with recommending a trip up Mill Mountain and a ride on the greenway, author Jenny Kincaid Boone lauded the growing craft beer and farm-to-table restaurant scenes, proving Roanoke is ahead of the cultural curve. 
Keep an eye out for the issue during your next trip.