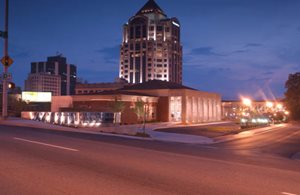 Two new reports show that the Roanoke Region's economy continues its strong growth despite the still sluggish economy. 
In a study conducted by Area Development titled, Leading Locations for 2014: U.S. Metros Ranked for Economic and Job Growth, Roanoke fared well against other metros in the U.S. Using data compiled from as far back as 2008, Area Development analyzed economic and work force data for 379 metropolitan statistical areas with the goal of identifying cities emerging as front runners in economic development. 
The Roanoke Region landed in the top 27 percent of the field, ranking 104 out of the 379 metro areas. Roanoke also ranked in the top third for economic strength indicators and for being a "recession-busting" city. Reflecting the strength of economic growth in the region, Roanoke ranked 79th for real gross metro product growth. 
In the introduction to the study, Area Development cited quality of life as one of the leading reasons for the location of a new business.
"One of the areas most overlooked when comparing competing metro areas is a livability factor, or quality of life, that makes certain areas more attractive to individuals and thus businesses. One of the most often cited reasons for the location of a new business, especially a small business, is quality of life, yet it is one of the areas policymakers most often overlook in attracting entrepreneurs and the highly skilled people who most often work for them."
The low cost of living, dynamic communities, and high quality of life in the Roanoke Region will continue to put Roanoke at the top of metro areas for attracting business in 2014 and beyond.
In addition to the Area Development ranking, the latest unemployment report saw the Roanoke metro area improve in April. Unemployment for April, 2014 was 4.8%, the lowest reading since December 2008.