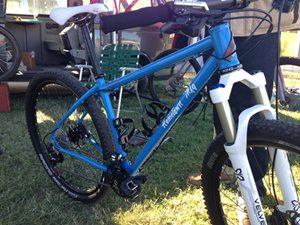 The Roanoke Region's Six-Eleven Bicycle Co. is one of only about 150 custom, hand-made bike makers in the world so it's no surprise the bikes coming out of the shop carry a heavy price tag. Each bike is made to order, and can cost anywhere from $3,000 to $12,000. That price point is poised to drop, however, with the launch of a brand new line of bikes under the label, Hometown Bikes.
The name is not a coincidence. Six-Eleven owner and founder Aaron Dykstra wants his custom frames to be more accessible to riders everywhere, but especially in his hometown of Roanoke. 
"I want this to be more local," he told the Roanoke Times. "I want this to be something quality they can get that's not Taiwanese, but from down the street."
Two years in the making, the new business plan will make it easier for Six-Eleven to produce more bikes in a shorter time, lowering the price for the average consumer. Dykstra says he will still make each steel frame by hand, but will design one frame and then reproduce multiple copies from that design. The frames will retail for about $1,000 each, significantly lower than the made-to-order variety.
The plan is to have the new line of frames sell in local bike shops to get more Roanoke riders on Six-Elevens. With the robust, and growing, cycling scene in the Roanoke Region, the market for locally-made bike frames is certainly on the rise. 
For more information, check out the article in the Roanoke Times >>>