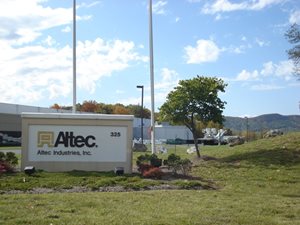 Altec Industries, an aerial device manufacturer with an assembly and manufacturing plant in Botetourt County, has announced its expansion will create 200 new jobs and involve nearly $4 million in capital investment over the next three years. 
The Alabama-based company operates a facility at Botetourt's Center at Greenfield and cited their positive experience there as one reason for the expansion. 
"We've been here for about 10 years now and we've been successful finding the talent and skill sets we need," Altec Regional Vice President Jeff Emry told the Roanoke Times. "We've been happy with the associates we've found in every category."
Emry also cited the region's technical resources, including Virginia Tech, as a reason for their success. 
For the expansion, Altec received assistance from the Virginia Jobs Investment Program to the tune of around $150,000. The VJIP incentive program is administered by the state and helps offset costs related to recruiting and training new employees. Learn more about the program here.
Botetourt County Deputy County Administrator David Moorman told the Roanoke Times the expansion "reflects the value of the Botetourt plant to the company to manufacture and distribute high quality product efficiently. It is an affirmation of Botetourt's and the Roanoke region's advantages for advanced manufacturers."