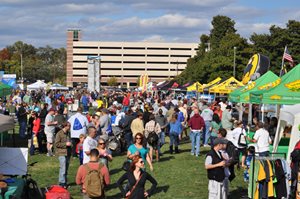 Roanoke Outside was created by the Roanoke Regional Partnership to showcase the region as one of the best outdoor communities in the U.S. The aim was to leverage the region's natural assets by dedicating time and resources to changing the narrative of the Roanoke region from that of a historic railroad and transportation hub to an outdoor recreation destination. 
Taken at face value, this may seem like an odd move for a regional economic development organization, but dig a little deeper and it makes perfect sense. Access to the outdoors plays into the larger "Quality of Life" aspect of a community that companies are increasingly focused on when considering where to re-locate or start their businesses. Outdoor infrastructure like the Greenways system, world-class trail systems, the Appalachian Trail, and blueways make the region an attractive place for both corporations and people.
The cultivation of a healthy, active community committed to the outdoors goes a long way toward attracting companies, people, and jobs to the region. The Roanoke Times recently published an editorial outlining this economic development strategy, giving it high marks in the article titled, Our View: Greenway$ and Blueway$. And, no, those are not typos. 
Here is an excerpt: 
Businesses still want to know many of the same things they've always wanted to know about a region — square footage, sewer capacities, site specifications.

Increasingly, though, they're asking about other things. For instance, broadband capacity (one reason we hope Roanoke County and Botetourt County will get on board with Roanoke and Salem to invest in fiber optic lines; that's the modern equivalent of building a highway for many businesses). But also something much more amorphous.

"Quality of life — it is a significant part of the search process," says Beth Doughty, executive director of the Roanoke Regional Partnership, which helps recruit businesses from Franklin County to Alleghany County. "It's really changed . . . . Now we get asked about greenways all the time."
Read more about how the outdoors is shaping the future of the Roanoke Region >>>