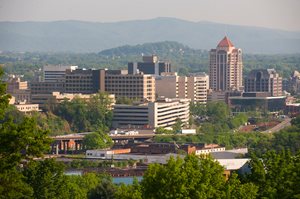 Due to its proximity to the outdoor wonderland of the Blue Ridge Mountains, the Roanoke Region of Virginia has earned its reputation as a great place for tourists and vacationers. The Appalachian Trail, Blue Ridge Parkway, Smith Mountain Lake, and other amenities give travelers a virtually endless amount of things to do outside, while a robust arts, culinary, and music scene gives visitors plenty to do indoors, as well.  
While being a great vacation destination is great, Roanoke is also a great place to put down roots, with a low cost of living and a small town feel wrapped in mid-sized city conveniences. This was one reason Money Crashers named Roanoke, Virginia one of the 10 Best American Vacation Town to Live in Year-Round. 
The small to mid-size cities on the list occupy what Money Crashers calls the "sweet spot, boasting ample employment opportunities, reasonable living costs, and family-friendly amenities – not to mention recreational opportunities that aren't easily accessible for most big-city residents." That description pretty much hits Roanoke right on the head. 
The article also cites the economic diversity, rich history, and relative isolation as the largest city in southwestern Virginia as reasons Roanoke is a great place to relocate from the hustle and bustle of the big city.