Via the
Roanoke Times
: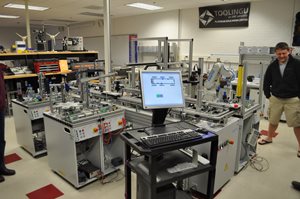 Good news for community college educator Dan Horine ripples through the region like the rings on the surface of a pond.
In this case, good news ripples reach the following: regional employers engaged in high-tech manufacturing and their suppliers, Virginia Western Community College and a sub-section of its students and staff, career and technical educators and their students in regional high schools, economic developers hoping to lure high-tech manufacturers to the region, and job seekers.
Horine learned last month that the National Science Foundation had awarded a grant of nearly $800,000 to his employer, VWCC, to strengthen the college's already highly regarded mechatronics curriculum, which has become a two-year associate degree program.
"I'm elated," Horine said Thursday. "Just so elated and grateful. It gives us an opportunity to work together with industry to provide them the resources they need to be successful."
According to one definition, mechatronics is an "interdisciplinary area of engineering that combines mechanical and electrical engineering and computer science."
Robert Sandel, VWCC's president, said the grant of $787,849 is the largest the college has received from the National Science Foundation, which has an Advanced Technological Education project.
Horine is head of VWCC's mechatronics program, which was developed, in part, to serve the needs of regional manufacturers whose sophisticated production machines and systems increasingly require skilled workers.
In May, the college used a portion of a previous NSF grant of $200,000 to host representatives from numerous regional manufacturers to establish an advisory group to help guide the mechatronics curriculum.