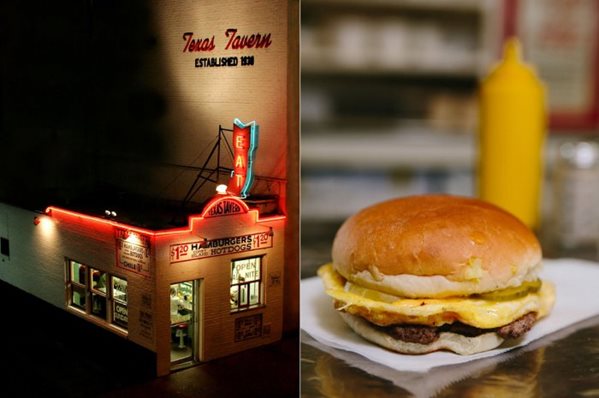 Texas Tavern in downtown Roanoke is home to one of America's best burgers, according to a new list released by The Daily Meal.
Coming in at No. 99 in "The 101 Best Burgers in America" ranking is the Cheesy Western. (Do you like yours "cheesy" or "cheesy with?")
Here's what The Daily Meal, a prominent food website, had this to say: "Texas Tavern was opened on Friday, February 13, 1930, by Issac N. "Nick" Bullington, a scout for the Ringling Brothers circus who traveled the country to book the act a year in advance. Today, his great-great-grandson Matt Bullington owns and operates the restaurant, which continues to bring in flocks of hungry locals for the freshly ground beef burgers. The item to order here is the Cheesy Western, but just say 'Cheesy,' as the staff does, or 'Cheesy with' if you want onions (which, of course, you do). It comes topped with a fried egg, melted cheese, pickles, and sweet relish on a plain bun."
The ranking highlights one of the "staples of American popular cuisine," and the list has been published since 2013. Critics tried more than 250 burgers from all over the nation to name the top 101. There are a few criteria to make the cut, according to the article, including using high-quality beef, proper seasoning, well-proportioned components, and attention to detail. Plus none of the top 101 are from large chain establishments.
Burger assignments were divided among food writers by The Daily Meal to develop the complete list: "We compiled a survey which was then taken by a panel of 50 noted writers, journalists, bloggers, and culinary authorities from across the country, asking them to vote for their favorites, limited to the ones that they've tried." You can find all 101 burgers on the list from The Daily Meal.
Kudos to the Cheesy Western for making this list. Learn more about the Texas Tavern and head on over for lunch.