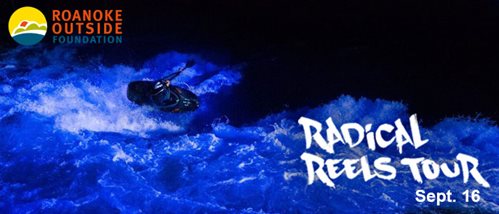 Faster, steeper, higher, deeper! The most outrageous mountain sport films from the 39th annual Banff Mountain Film Festival will thrill and inspire you with big-screen adventures when the Radical Reels Tour, presented by National Geographic, comes back to Roanoke on Sept. 16.
The 2015 tour is packed with everything you have loved about Radical Reels in the past, including the Get Outside Expo before the film showing. The expo, beginning at 5 p.m., will include local outfitters, stores, non-profits, and volunteer groups with tables set up showcasing what it is they do. Films will follow at 6:45 p.m.
The Radical Reels Tour is a national film festival presented by National Geographic and MSR and other sponsors. Films are shown in cities across the nation, but there are only two tour dates in Virginia, including the Roanoke event.
Admission to the film festival and expo is $5 and gets you a raffle ticket for giveaways at intermission and the warm feeling that comes from helping the Roanoke Outside Foundation. The prizes will be pretty cool and you can enter to win items that appeal to you the most. (You can buy more chances, too; every $5 you donate gets you three more raffle tickets.)
The Roanoke Regional Partnership created Roanoke Outside to help showcase this region as the greatest outdoor town in the United States. The Roanoke Outside Foundation is a charitable organization working to make your region the capital for world-class, outdoor fun — RoanokeOutside.com, Get Outside Weekend Update, Blue Ridge Marathon, and GO Fest are all part of this mission. Plus, we've been the advocate for changes that are making this place more awesome than ever. Your support helps us fulfill this mission and these goals.