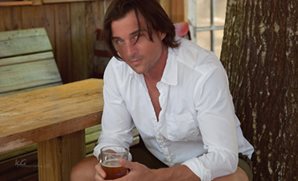 Welcome Jason Horn, a.k.a. The Dive Whisperer, to Get2KnowNoke this week. Jason is a bit of a world-traveler who was born in Roanoke, left for a while, and has returned home with a "hope to encourage the continued growth of this community's beer, food, and culture scene."
This week, Jason has promised to tweet about beer, bacon, food, culture, travel … and more beer.
From his personal account, @thedivewhisperer, Jason loves to talk about these very things and is a contributor to The Daily Meal. He's shared more than 20,000 thoughts 140 characters at a time since 2013. Here's his bio: Release The Krakken! And then let's BBQ it. Korean Style. Dances at the Bada Bing. Who brought the beer? More at http://goo.gl/uo1g7I
Here are a couple more facts about Jason, who share quite a bit of humor on social media as well.
What he likes about social media: "The ability to reach millions, resulting in the eventual goal of world domination. Or at least Vinton."
Favorite Roanoke Region place, thing or hangout: "I love to hike. I saw many a gorgeous sunset of the ocean or ate crawfish at a cookout in a backyard in new Orleans … but nothing can compare to the amazing mountain vistas I am surrounded by here in my hometown."
If you are on Twitter, give @thedivewhisperer a follow and make sure to join the conversation with him this week @get2knownoke.