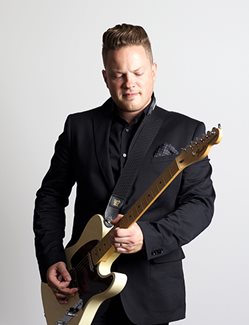 Welcome JD Sutphin to Get2KnowNoke for the next week. JD is a self-proclaimed "huge foodie" that's constantly checking out local restaurants and live music, and somewhat of a local celebrity as a member of The Low Low Chariot.
Even if you don't know JD personally, you've probably heard him around the Roanoke Region. He is a singer-songwriter and entrepreneur. His band, The Low Low Chariot, is well-known and he is a former DJ at WROV-FM in Roanoke. He's also the owner of Big Lick Entertainment, which is behind events such as Big Lick Oktoberfest, Big Lick Burger Fest, Flat Pickin' Fridays and other musical events.
"Big Lick Entertainment's mission to create events with a message and meaning is unmatched in Virginia," JD says. "Whether producing a fundraiser, festival or concert, each date is a crafted partnership with the goal of enriching our area culturally and economically with drive, passion, and creativity."
As a Southwest Virginia native, JD believes in the region. He founded Big Lick Entertainment in 2013 after attending CityWorks (x)po because he "wanted to create a community based organization that could consistently activate businesses, grow our art and music scene and offer new social opportunities to explained our quality of life in the Roanoke Valley."
Tweeting from his personal account, @lowlowchariot, JD talks anything from food to music and often posts awesome photos from live events. Here's his bio: Country from Virginia.
Here are a couple more facts about JD.
What he likes about social media: "I truly love how I can keep up with friends and family that I may not see often, but can be up to date on their life, love and happiness."
Favorite Roanoke Region place: "It's so hard to beat Botetourt in the fall, or the sunset while driving on Hershberger Rd over Interstate 581. Plus our countless restaurants and venues.  Seeing a show at the Berglund Performing Arts Theater or a movie at the Grandin. They all feel timeless for so many reasons."
If you are on Twitter, give @lowlowchariot a follow and make sure to join the conversation with him this week on @get2knownoke. And if you are interested in his music, catch a show or grab a song on iTunes. (You'll enjoy it.)