BRO-TV: Experience Roanoke, Va. from Blue Ridge Outdoors on Vimeo.
The votes are in and Blue Ridge Outdoors is sharing what most of the Roanoke Region already knew – we live in a top outdoor town. Roanoke is the 2015 Top Mid-Sized Town winner in the annual ranking.
The region also took home Best Trail Town in 2013 and was voted Best Mountain Town in 2012.
More than 100,000 readers voted in the contest late this summer and through the fall to pick their favorite town with "vibrant outdoor scenes and access to world-class adventure," according to Blue Ridge Outdoors.
"Roanoke is a pretty special place and the rest of the U.S. is beginning to take notice" says Pete Eshelman with the Roanoke Outside Foundation. "There aren't too many places with such easy access to such a diverse offering of outdoor recreation opportunities … not to mention the greenway system that connects all our communities."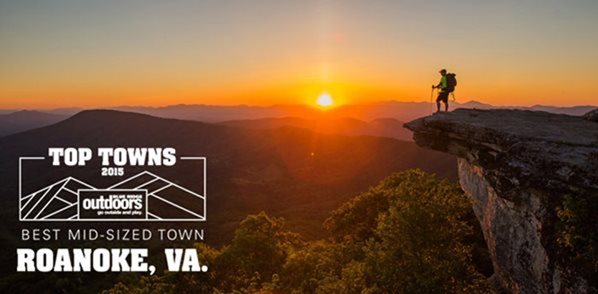 Here's what the magazine had to say about Roanoke:
"Set against a backdrop of rolling countryside and idyllic ridgelines, the city of Roanoke is perfectly poised to offer visitors and residents alike a balanced blend of scenic beauty in a diverse and thriving urban environment. Situated at the base of the Blue Ridge Mountains, in the heart of the valley, alongside a river, wrapped in the arms of national forest, you'd think outdoor recreation would have always been an integral part of the city's identity."
Some of the highlights from Blue Ridge Outdoors trip to the region include stops at Roanoke Mountain Adventures and Fleet Feet Sports.
You can read the full feature from Blue Ridge Outdoors in the November issue.