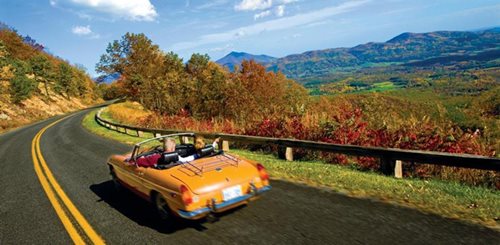 Boston Globe readers know what we already knew: There's nothing like fall in the Roanoke Region.
The pair of travel correspondents visited the region and hiked McAfee Knob as well as took in some other are hot spots. Here are a few snippets from "A Peak, A Painting, A Blue Ridge Autumn in Roanoke."
"Seeing "A Walk in the Woods" inspired us to make the trip to Roanoke, but the views from McAfee were just part of what makes this area so compelling. This former railroad town has been undergoing a renaissance, with the openings of new museums and hotels, craft breweries, and a wave of millennials and retirees moving downtown, into stylish condos in refurbished old buildings. And what's not to like about a city whose symbol is a giant star (a Christmas decoration that never came down) and whose landmarks include a vintage Dr Pepper sign? Old meets new in a charming way in Roanoke, you'll discover."
"A Walk in the Woods" featured the Appalachian Trail and the now-famous McAfee Knob, which was on the movie poster. The travel writers also visited — and loved — other Roanoke Region spots such as Carvins Cove and Black Dog Salvage.