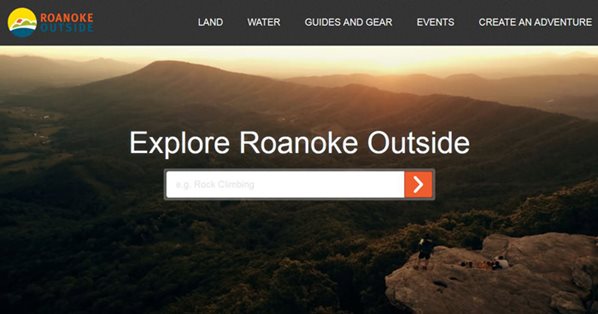 The Roanoke Regional Partnership and Roanoke Outside Foundation have launched a new RoanokeOutside.com. The new website features a fully-responsive modern design that will work on any device and features new video and photos showcasing the Roanoke Region's phenomenal outdoor assets.
 
The original RoanokeOutside.com has produced 580,000 page views this year; a 12 percent increase over 2014. It launched in 2010 to catalog the region's many outdoor assets; the first step in raising the region's visibility as one of the best outdoor-oriented communities in the United States. Since the website launch, the Roanoke Regional Partnership's outdoor branding work has included the Blue Ridge Marathon, GoFest, Radical Reels Film Festival, weekly newsletter to approximately 10,000 outdoor enthusiasts, advocacy for outdoor projects, and assistance to businesses. Roanoke regional employment in the outdoor industry has grown by 9.6 percent since 2010 while Virginia saw an 8.9 percent decline and the industry grew only 6.3 percent nationally.
 
"RoanokeOutside.com is going to the next level to be even more user-friendly," said Pete Eshelman, director of outdoor branding for the Roanoke Regional Partnership. "With a cutting edge design and more robust features, the site is the first stop for anyone who wants to play outside. The site is a showcase of the Roanoke Region lifestyle.  About 40 percent of current page views are from outside Virginia so it is telling our story far and wide."
 
Key features include:
Create an Adventure tool to help you plan a hike, bike, or paddling experience with stops along the way
Robust events listings with shareable URLs and ability for organizations to add an outdoor-related event free of charge
Expansive collection of newly-updated outdoor resources and information for Roanoke, Salem, Vinton, Covington, and the counties of Roanoke, Franklin, Alleghany, Botetourt and beyond
Responsive design that works on all devices
The website includes plenty of community collaboration in the spirit of Roanoke Outside. It was designed and developed by Roanoke firm Firefli and much of the new photography and videography was shot specifically for the website at locations all over the region.