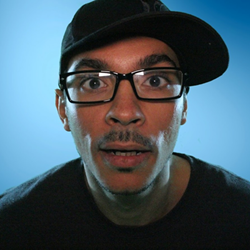 Welcome Kirk Dudley to Get2KnowNoke this week. With his crazy sense of humor and love for all things Roanoke, the final week of 2015 is sure to be a good one.
Kirk is a native Roanoker and works as a software developer and is a music artist. You can listen at iLL-it Records. He'll help you find great things to eat around town, might help you find the perfect New Year's Eve party location, and promises to avoid Game of Thrones spoilers and cat videos.
In addition, he's a beer and sock enthusiast that prides himself on his bobble head collection – maybe he will share a photo or two – and his favorite color is orange.
Here's why Kirk wanted to join the Twitter Takeover: "Because Roanoke is the bees' knees. I grew up in Roanoke and love to meet new people. I know that a hashtag is not the same thing as a hashbrown although both are good in their own ways. I have a family who will help me come up with new content to share."
Tweeting from his personal account, @speekeazy, Kirk is just fun to follow. Whether he is talking about cool food and brews or movies or music, his sense of humor shines through. (So be ready for a few giggles along the way.) He's posted more than 8,300 tweets since 2009. Here's his bio: Just using my lyrics as therapy and loving that others use my words in the same manner. ill-it.com  
Here are a couple more facts about Kirk.
What he likes about social media: "The fact that you can share information to millions of people in an instant. Want to know what the special is at Metro? Just check Twitter."
Favorite Roanoke Region places: "I really like all of the outside activities that the Roanoke area has to offer. The greenways are absolutely fantastic and the fact that they are expanding and connecting makes me excited about what the future holds. The hikes in the area are also superb. Dragons Tooth. Devils Marble Yard, McAfee Knob, Roaring Run, and Bottom Creek Gorge are all great. It's a beautiful and cheap way to spend a day. I am also a fan of the exploding craft brewery scene in Roanoke right now. Places like Big Lick Brewing, Soaring Ridge and Parkway are showing that the Roanoke area can brew with the best of them."
If you are on Twitter, give @speekeazy a follow and make sure to join the conversation with him this week on @Get2KnowNoke.