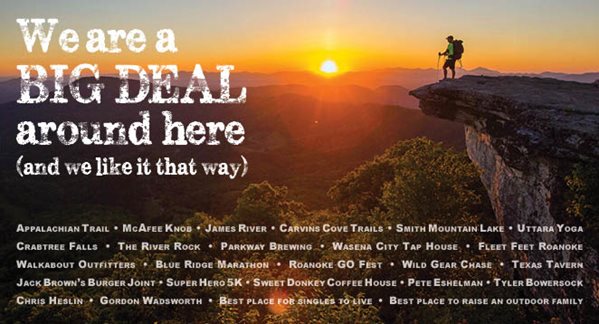 Dozens of Roanoke Region sites, businesses, and events were selected by readers as "Best of the Blue Ridge" in the most recent edition of Blue Ridge Outdoors.
This recognition solidifies the Roanoke Region's reputation as an outdoor recreation destination. More people are learning about the region thanks to accolades and recognition from around the country for its abundance of, and ease of access to, a plenty of outdoor resources.
Carvins Cove and the Blue Ridge Marathon were among the highlighted picks in Blue Ridge Outdoors magazine's annual online vote. The Roanoke Regional Partnership's Director of Outdoor Branding, Pete Eshelman, was also honored as an Inspiring Outdoor Person.
In earlier voting, Roanoke was named Top Town in 2015.
Here are this year's winners from the Roanoke Region. You can find the full voting from Blue Ridge Outdoors. 
Appalachian Trail
McAfee Knob
James River
Carvins Cove Trails
Smith Mountain Lake
Uttara Yoga 
Crabtree Falls
The River Rock
Parkway Brewing
Wasena City Tap House
Fleet Feet Roanoke
Walkabout Outfitters
Blue Ridge Marathon
Roanoke GO Fest
Wild Gear Chase
Texas Tavern
Jack Brown's Burger Joint
Super Hero 5K
Sweet Donkey Coffee House
Pete Eshelman
Tyler Bowersock 
Chris Heslin
Gordon Wadsworth
Best place for singles to live
Best place to raise an outdoor family