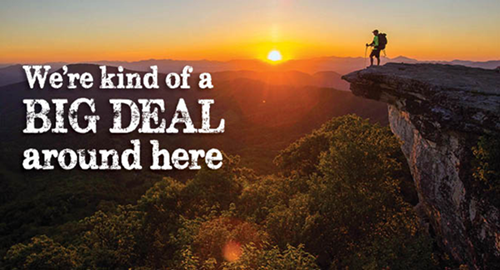 When the Roanoke Regional Partnership embarked on a strategy to package the region's outdoor assets into an economic sector that would attract people, investment and jobs, we knew we were on to something.
The recent results from the "Best of the Blue Ridge 2016" readers' survey in Blue Ridge Outdoors – the know-all publication covering 10 states – is the latest indication that we're on the right track. These results show that the community narrative of being one of the best outdoor communities in the United States has taken hold.
Places, businesses and people from the Roanoke Region stood above prestigious competition in a variety of categories. Here's a rundown of the good news:
Best Place for Outdoor Singles to Live: Roanoke
"With in-town trails and greenway systems, vibrant farm-to-table and craft beer movements, not to mention a low cost of living, what young professional wouldn't want to relocate to this mid-sized mountain town?"
Best Place to Raise an Outdoor Family: Roanoke
"Roanoke's big city amenities and small town feel make life in the Star City safe, convenient, and far from boring."
Most Inspiring Outdoor Person: Pete Eshelman, Roanoke Outside
"Though Pete Eshelman is largely known for his role in fostering outdoor opportunities in Roanoke over the last five years, his relationship with the natural world has been a lifelong one."
Toughest Race: Blue Ridge Marathon, Roanoke
"There's a reason they call this beast 'America's Toughest Road Marathon.' Start at 7:30 in the morning and huff and puff your way over 7,430 feet in elevation change. But don't worry — the views make up for the suffer-fest."
Best Blue Ridge Festival: Go Fest, Roanoke
"For a jam-packed weekend of outdoor activities, demos, and live performances, head to The Star City in mid-October. This event is a must-do for any Blue Ridge lover, and with free bike shuttles and on-greenway access, there's no excuse for you to not go outside and play."
Best Appalachian Trail Section: McAfee Knob, Catawba
Best Biking Trail: Carvins Cove Trails, Roanoke
Best Waterfall: Cascades
Best Adventure Race: Wild Gear Chase (Go Fest), Roanoke
Best Running Event: Blue Ridge Marathon, Roanoke
Best Climbing Gym: River Rock Climbing, Roanoke
Best Outdoor Hangout: Parkway Brewing
Best Riverside Pub: Wasena City Taproom, Roanoke
Best Outdoor Shop: Walkabout Outfitters, Roanoke, Harrisonburg, Lexington
Best Yoga Studio: Uttara Yoga, Roanoke
Best Vineyard: Chateau Morrisette
Best Burger: Jack Brown's Burger Joint
Adventurer of the Year: Gordon Wadsworth
Best Triathlon: On the Trails Triathlon
Runners up
Best Flatwater: Smith Mountain Lake
Food & Drink:  Texas Tavern
Bike Mechanic: Chris Heslin (UnderDog)
Coffee Shop:  Sweet Donkey
Best Running Store: Fleet Feet Sports, Roanoke
Honorable mentions
A.T. Thru Hiker: Kathryn Herndon
Physical Therapist: Tyler Bowersock
Rowdiest Fest: GO Fest
Swimming Hole: Cascades
Paddling River: James River
Best Waterfall: Crabtree Falls
You can see the complete list – and how we stack against other communities – from Blue Ridge Outdoors.