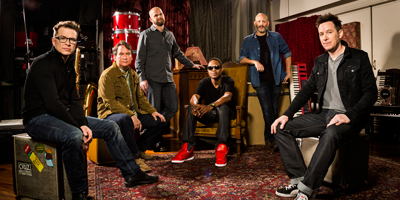 The Down by Downtown Music Festival will finish with an interstellar finale with Galactic at Elmwood Park Amphitheater on April 16.
Down by Downtown is a three-day celebration of music with concerts at Elmwood Park Amphitheater on Friday and Saturday nights, as well as live music nightly in 5 venues in downtown Roanoke alongside the Big Lick Music Conference. More than 50 acts will perform throughout the week and at the Foot Levelers Blue Ridge Marathon finish line.
Galactic is a New Orleans-based funk band. Their latest CD, "Into the Deep," was released in July and features an eclectic mix of vocals and instrumentals. The band has been recording for more than 20 years and songs have influences of hip hop, electronic, rock, blues, and jazz. Their current tour includes stops at major festivals all over the East Coast, including the LOCKN' Festival in August.
The ticketed Galactic show will begin around 6 p.m. with doors opening at 5:30 p.m. Tickets go on sale March 4 with special ticket pricing of $20 ending March 11.  After March 11 tickets are $25 in advance and $30 the day of the show. Foot Levelers Blue Ridge Marathon, half marathon and Anthem Star 10k participants can buy discounted tickets.
The weekend will be packed with even more music this year with the addition of the Big Lick Music Conference. More than 50 artists will attend the conference, which will feature panel discussions featuring national and regional music industry leaders, workshops, a trade show, and social events geared for fun, growth and education.
Download Galactic promotional materials, including band logo, photos, video, and bio.
Huge thank you to our sponsors: Foot Levelers, Roanoke Regional Partnership, City of Roanoke, WDBJ7,  Carilion Clinic, Anthem Blue Cross and Blue Shield, Ferrum College, Fink's Jewelers, Tag Heuer, WROV, nTelos, Farm to Feet, Martins' Downtown, Blue 5 Restaurant, Awful Arthurs, The Spot on Kirk, and The Quarter.
ABOUT DOWN BY DOWNTOWN
With more than 50 live music performances in venues throughout the city Down By Downtown (DxDT) is a celebration of Roanoke's growing music scene. Participating venues host live music April 14-16, most of which are free.  DxDT was organized seven years ago as a part of Roanoke's Creative Connectors Class. For the past several years DxDT has partnered with Roanoke Outside and the Blue Ridge Marathon. In 2015 the Roanoke Outside Foundation took over complete management of DxDT and has partnered with Big Lick Entertainment to add the Big Lick Music Conference to the event lineup.
ABOUT ROANOKE OUTSIDE
The Roanoke Regional Partnership created Roanoke Outside to showcase why the Roanoke, Virginia, Region is one of the best outdoor communities in the United States. In 2013, with the support of the Partnership, the Roanoke Outside Foundation was officially formed as a 501(c)3 charitable organization. It is our mission to make outdoor activity and environmental stewardship a core component of our community's lifestyle. We started RoanokeOutside.com, Get Outside Weekend Update, Blue Ridge Marathon, and GO Outside Fest. Plus, we've been the advocate for the many changes that are making this place more awesome than ever. We've got plans for even more exciting events and facilities. And you can be a part of it all.
ABOUT BLUE RIDGE MARATHON
The Blue Ridge Marathon was created by the Roanoke Regional Partnership/Roanoke Outside to showcase the region's commitment to making outdoor recreation and environmental stewardship a core component of the Roanoke Region lifestyle. Originally boasted as "America's Toughest Road Marathon" it has more than lived up to the reputation. Not for the faint of heart, the Foot Levelers Blue Ridge Marathon features the most challenging and breathtaking course of any road marathon in the country and was recently named to The Weather Channel's "World's 15 Toughest Marathons" list (#8). Beginning in downtown Roanoke, Virginia and ascending four miles along the Blue Ridge Parkway to the summit of Roanoke Mountain this race will put you in the zone…and all before mile 10!
 
ABOUT BIG LICK ENTERTAINMENT 
Big Lick Entertainment's mission to create events with a message and meaning is unmatched in Virginia. Whether producing a fundraiser, festival or concert, each date is a crafted partnership with the goal of enriching our area culturally and economically with drive, passion and creativity.