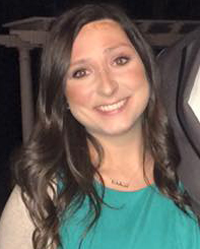 Welcome Devan Logwood to Get2KnowNoke this week. Devan is one of the young movers and shakers in the region, and grew up in Roanoke.
She's the director of membership and marketing with the Roanoke Regional Home Builders Association (you won't want to miss the upcoming Home Show, April 1-3 at the Salem Civic Center) and she's part of the group that will put on the eXperience 2016 young professionals conference on April 8.
Devan grew up in the region and attended Roanoke College. She's also working on a graduate degree from West Virginia University online, and she says she's always been proud to call Roanoke home. "The progress and growth Roanoke has undergone in the last 10 years makes me happy and I look forward to what's next!"
Tweeting from her personal account, @Devvv9, Devan is on top of pop culture, things to do and music. She says you can find her at events all over the region, particularly country music concerts. Here's her bio: tweet, tweet.
Here are a couple more facts about Devan:
What she likes about social media: "You can connect with anyone! I also use social media as an events calendar. It's easy to connect with others who are going to a certain event and get the inside scoop on what's going on."
Favorite Roanoke Region place, thing, or hangout: "Most recently, The Harvester because I got engaged there! One of my all-time favorite Roanoke things is Festival in the Park. I love seeing people from all walks of life come out and celebrate summer, our community, and great music."
If you are on Twitter, give @Devvv9 a follow and make sure to join the conversation this week on @get2knownoke.