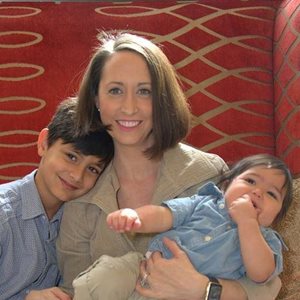 Welcome Ruth Cassell to Get2KnowNoke this week. Ruth is a native Roanoke – she grew up in North Roanoke County – and networks for a living as the chief development officer at Family Service of Roanoke Valley.
This should be a fun week on Twitter as Ruth helps you get excited for the Family Service of Roanoke Valley Celebrity Tip Off, where Roanoke "stars" will shine at the event. Some of the celebrities featured include Black Dog Salvage's Mike Whiteside and Robert Kulp, Author Beth Macy, Roanoke City's Chris Morrill, doctors from Carilion Clinic, and more. The event is Thursday, April 28.
Ruth is high energy and the week should be a lot of fun … and make sure to ask her about how to get involved in the region. She has the inside track to volunteering and working with nonprofits.
Tweeting from her personal account, @attnanon, Ruth is on top of everything local and she'll keep you on top of Roanoke Region happenings this week. Here's her bio: I live in a beautiful place, work for a cause I'm passionate about–mental health–raise two handsome boys, and write when I have time! Life is good!! (As far as writing goes, her blog is Attention Anonymous.)
Here are a couple more facts about Ruth.
While Ruth grew up in the county, she now lives near Downtown Roanoke.
"I enjoy running and writing, and especially spending time with my family (two young boys and a hubby in the RPD Police Academy) around the valley!"
If you are on Twitter, give @attanon a follow and make sure to join the conversation this week on @get2knownoke.