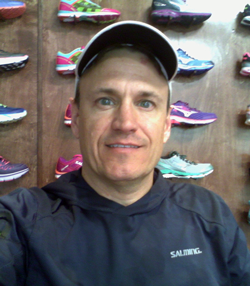 Welcome Ed Shepherd to Get2KnowNoke this week. Ed is the managing partner of RunAbout Sports in Roanoke and a former pro/am cyclist. He's also a big part of the Roanoke Valley Beer Mile happening in conjunction with the Virginia's Blue Ridge Downtown Twilight Criterium on Saturday, May 21.
This week, he's going to run our Twitter account and get you excited about everything outdoors. From running to biking to just lounging in the breeze, Ed's goal is to help you find out about everything that is going on … and help you get involved and active.
As for the beer mile this weekend, you can still get involved in the run for cash prizes. A beer mile involves running one mile with a beer at every quarter mile (or half for the fun run). The race will start and finish outside Martin's Downtown and starts at 4:30 p.m. Saturday. Registration is just $10. Wanna know more? Make sure to ask Ed on Twitter!
Tweeting from his personal account, @e_shep, Ed is constantly sharing photos from all over the region. (You might even find yourself in one of his group selfies!) Here's his bio: Christian, Father, Elite Athlete, Coach, @TriSports, @hammernutrition, @Feetures, @HeadsweatsCo, @HawkRacing, @Runwell1, @RV_Elite, @zealiosskincare
Here are a couple more facts about Ed.
Ed is a running fanatic. He joins multiple runs each week, join him this week for a Coffee Run, The Original Roanoke Pub Run, or the Body by Parkway Run.
His favorite spots in the Roanoke Region are anywhere along the Roanoke River, Carvins Cove, the A.T., and "all places beer!"
 
If you are on Twitter, give @e-shep a follow and make sure to join the conversation this week on @get2knownoke.