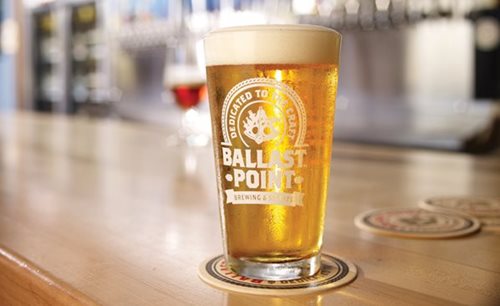 DALEVILLE, Va. (MAY 24,  2016) – Ballast Point Brewing and Spirits, the 11th largest craft brewer in the United States in 2015, will invest about $48 million to establish an East Coast brewing operation in Botetourt County. The company has agreed to purchase the 259,040 sq. ft. Lawrence Companies building located on International Parkway in Botetourt Center at Greenfield where it plans to create 178 jobs in manufacturing and retail operations.
San Diego-based Ballast Point Brewing and Spirits was started in 1996 by a small group of home brewers. Today, the company is one of the fastest growing craft beer companies in the United States and a recognized innovator in craft brewing and spirits. Ballast Point employs more than 500 at four facilities in the San Diego, CA area and sells its beer in more than 30 states. It operates as a stand-alone company after its acquisition in 2015 by Constellation Brands (NYSE: STZ and STZ.B).
"In our quest to provide the best quality, freshest beer to all of our customers, an East Coast brewery started to make a lot of sense to us," said Ballast Point founder Jack White. "We are excited by the opportunity we see in Botetourt County, and we're looking forward to getting to know the local community as we get established there."
"We are able to welcome Ballast Point to Botetourt County because of the decision by the Board of Supervisors in 2015 to join the Western Virginia Water Authority. Without that partnership, we would not have been able to provide the quantity and quality of water demanded by this project," said Botetourt County Board of Supervisors Chair Jack Leffel. "This is another example of bold decisions, such as the development of Greenfield, that pay long-term dividends to the county and its residents."
Beth Doughty, executive director of the Roanoke Regional Partnership, said the organization called on the company more than a year ago as part of a campaign to attract craft brewers. "The company was able to move quickly because we matched them with an available building and all the infrastructure."  
"Our private sector partners at Lawrence Companies were critical to this recruitment and I appreciate their role putting Botetourt County and Virginia in position to make this announcement today," said Gary Larrowe, Botetourt County administrator.
"Attracting Ballast Point is a fantastic way of adding employment opportunities in Botetourt County with an industry leader creating a destination location," said Joyce Kessinger, chair of the Botetourt County Economic Development Authority. "We see this project as key to our goal of attracting young people to live, work and play in Botetourt."
Botetourt County and the Roanoke Regional Partnership worked with the Virginia Economic Development Partnership. Economic impact modeling (IMPLAN) by the Roanoke Regional Partnership estimates this project will have an overall annual economic impact of $376,442,866 and spur creation of more than 540 secondary jobs. The impact will extend across the region.
Governor Terry McAuliffe approved a $2,400,000 grant from the Commonwealth's Opportunity Fund to assist Botetourt County with the project. The company will also be eligible to receive a $250,000 grant from the Governor's Agriculture and Forestry Industries Development Fund (AFID), administered by the Virginia Department of Agriculture and Consumer Services. Funding and services to support the company's employee training activities will be provided through the Virginia Jobs Investment Program.
The county will provide $1,402,177 in tax incentives along with performance grants anticipated at $650,000, a potential AFID grant of $250,000, and permit fee waivers.
Craft beer is a $22.3 billion market according to the Brewers Association and realized a 16 percent dollar sales growth in 2015. Craft beer production increased 12.8 percent in 2015.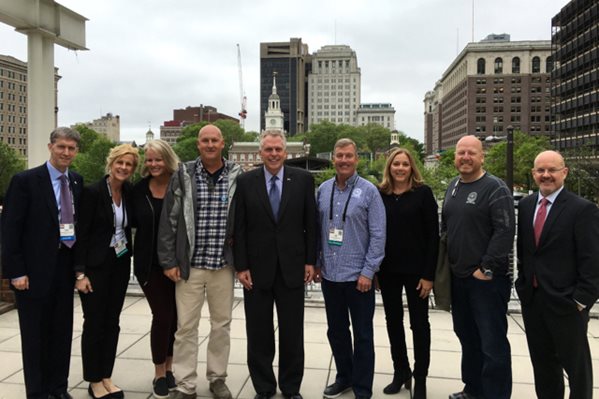 The Roanoke Regional Partnership worked with Virginia officials to help Ballast Point establish an East Coast operation in Botetourt County. From left: Todd Haymore, secretary of Agriculture and Forestry; Ann Blair Miller, Roanoke Regional Partnership director of project management; Jen White and Jack White, Ballast Point founder; Virginia Gov. Terry McAuliffe; Jim Buechler, BP president and CEO; Julie Buechler, BP general council; Earl Kight, BP chief commercial officer; and Dan Gunderson, VEDP interim president and CEO. (Credit:  VEDP; photo taken at Craft Brewers Conference, Philadelphia, May 2016)