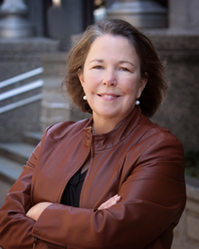 Roanoke Regional Partnership Executive Director Beth Doughty is one of the top 50 economic developers of the year.
Consultant Connect, a consulting agency designed to bridge the gap between economic developers and site consultants released the 2016 list of North America's Top 50 Economic Developers. The economic development professionals selected for this list were nominated by their colleagues in both the economic development industry and the site consultant community for excellent practices, innovation and success in building the communities they serve.    
Each top 50 economic developer will be featured on the weekly podcast, From The Ground Up: North America's Top 50 Economic Developers. These industry leaders will be interviewed on the podcast to share their expertise in the field of economic development and leadership insights they've learned along the way. You can listen to the podcast featuring Doughty here.
"This annual list recognizing North America's Top 50 Economic Developers is designed to acknowledge the hard work of the top leaders in this field and elevate the conversation around economic development and job creation," said Ron Kitchens, managing partner of Consultant Connect. "Each of the leaders represented on this year's list are beyond deserving of this recognition for their efforts in building our communities brick by brick and job by job."
The complete list of North America's Top 50 Economic Developers includes:
Adrianna Cruz, Greater San Marcos Partnership
Alicia Hutchins, Kansas Department of Commerce
Allison Gilbreath, Arizona Commerce Authority – Midwest
Andrea Schruijer, Valdosta-Lowndes County Development Authority
Annie Baxter, Georgia Department of Economic Development
Becca Hardin, Bay Economic Development Partnership
Benjamin J. Snow, Rapid City Economic Development Partnership
Beth Doughty, Roanoke Regional Partnership
Bill Adams, Tennessee Valley Authority Economic Development
Blair King, Alabama Power Company
Brenda Robbins, Georgia Power
Brien Thorstenberg, Tulsa Regional Chamber Economic Development
Broderick Green, JAXUSA Partnership
Charisse Bodisch, Austin Chamber of Commerce
Charles Wood, Chattanooga Area Chamber of Commerce
Chris Camacho, Greater Phoenix Economic Council
Christopher Chung, Economic Development Partnership of North Carolina
David Rumbarger, Community Development Foundation of Tupelo
Grady Fitzpatrick, Greater New Orleans Inc.
Greg Canfield, Alabama Department of Commerce
Greg Wathen, Economic Development Coalition of Southwest Indiana
Holly Schroeder, Santa Clarita Valley Economic Development Corporation
Jeff Edwards, Economic Development Corporation of Utah
Jeff Hite, Nashville Area Chamber of Commerce
Jerry Mallot, JAXUSA Partnership
Jill Frick, City of Hagerstown, MD
Jill McCarthy, Kansas City Area Development Council
Jill A. Miles, Business Oregon
Jim Flanagan, DeSoto County Economic Development Council
Jim Staton, Indiana Economic Development Corporation
Joe Max Higgins Jr., Golden Triangle Development Link
Johnna Reeder, REDI Cincinnati
Kenny McDonald, Colombus 2020
Laura Brandt, Metro Denver Economic Development Corporation
Lisa Rivera Skubal, Greater Cedar Valley Alliane & Chamber
Matt McCollister, Colombus 2020
Michael Hecht, Greater New Orleans Inc.
Michael Langley, Greater MSP
Misti Whitfield Martin, Cherokee Office of Economic Development
Rachel Pierson Delamain, Baton Rouge Area Chamber
Randy Thelan, Greater Omaha Chamber
Rob O'Brian, The Joplin Area Chamber of Commerce
Robert Leak, Winston-Salem Business Inc.
Ronnie Bryant, Charlotte Regional Partnership
Steven S. Johnson, Missouri Partnership
Tim Eckerle, Grant County Economic Growth Council
Todd Brightwell, Economic Development Corporation of Utah
Tracye McDaniel, Texas Economic Development Corporation
Valerie Shaffer, Economic Development Corporation of Wayne County, IN
Wade Goodsell, Wisconsin Economic Development Corporation