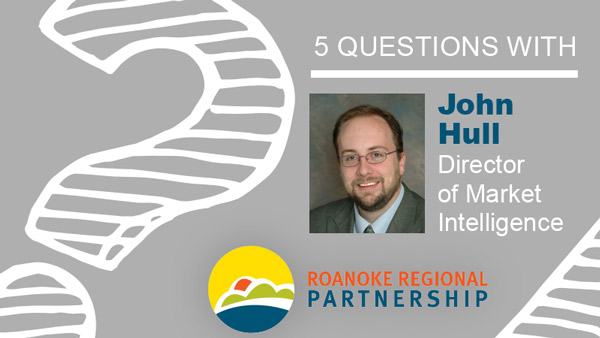 John Hull is the Roanoke Regional Partnership's data guru. Hull, director of market intelligence, has more than 10 years of experience producing data analysis for regional development and strategic planning. He handles a variety of data requests from the public and prospective businesses.
Get to know John in his own words.
What's the best part of your job?
I really enjoy connecting both businesses as well as individuals with information. When people contact me, it is because they need a demographic report, a statistic, etc., and oftentimes they do not really have a handle on what it is they need. I can put form to their request and fulfill it. I see it as a valuable service to the community and the region. And sometimes, the work supports a company's decision to locate in the Roanoke Region or an entrepreneur's decision to start a business, and that is a very rewarding feeling. 
What's the most played song in your playlist?
"Still of the Night" by Whitesnake. Because, Whitesnake … Van Halen's Live: Right Here, Right Now album fuels my morning run.
What super power would you like to have?
Either super speed or flight. Can you imagine? No need for any transportation expense.
What are you reading right now?
I recently finished Fight Club by Chuck Palahniuk and I just started Matt Bondurant's The Wettest County in the World, which is about a family who made moonshine in Franklin County during the Prohibition era. 
Where's your favorite place to play in the Roanoke Region?
I like playing on my Hustler zero turn mower in my yard. Running through the country roads of Franklin County is also enjoyable.