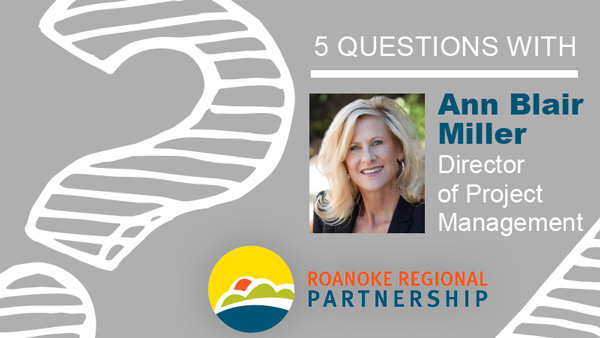 Ann Blair Miller is the Roanoke Regional Partnership's designer and manager of business recruitment strategies. Miller, director of project management, is a past president of the Virginia Economic Developers Association, and has been involved with VEDA as either a Board Member or an Executive Officer since 2005. She was named the 2015 recipient of VEDA's Cardinal Award which is a designation that recognizes "outstanding service and achievement within the Commonwealth of Virginia in furthering economic development."
Get to know Ann Blair in her own words.
What's the best part of your job?
One of the coolest things about my job is that I get to meet new people that turn into new friends. Working for the Partnership allows me to do this all the time and those connections are valuable and mean a lot to me.
What's the most played song in your playlist?
"H.O.L.Y" by Florida Georgia Line is at the top of my playlist these days. But an oldie that I love and listen to all the time is "Southern Girl" by Amos Lee.
What super power would you like to have?
Flying would be great so I could get places quicker.
What are you reading right now?
"The Girl on the Train" by Paula Hawkins. (I'm looking forward to the movie, too.)
Where's your favorite place to play in the Roanoke Region?
I love to hike and my favorite spot is McAfee Knob when I have the time. I try to hike Mill Mountain as many weekends as I can with friends. This is my time to catch up with people I care about, but don't have time to see during the week.
Connect with Ann Blair on LinkedIn.