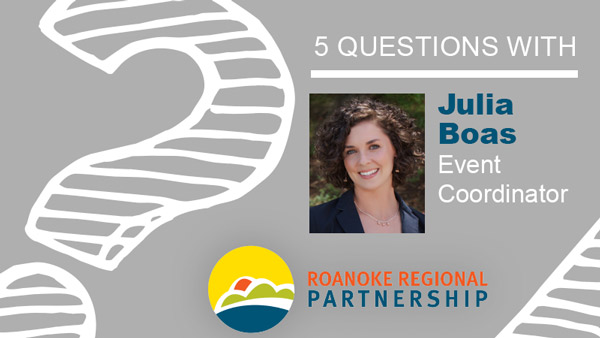 Julia Boas manages events for Roanoke Outside, the Roanoke Regional Partnership's outdoor brand development branch. She has worked in the outdoor industry for almost a decade with experience guiding adventure excursions, planning outdoor related events, promoting, management, and customer service and is the driving planner behind events such as the
Blue Ridge Marathon
,
Radical Reels Film Festival
(coming up on Sept. 11), and the
Roanoke GO Outside Festival
(Oct. 14-16).
Get to know Julia in her own words.
What's the best part of your job?
I love collaborating with all the different organizations and businesses in our region. There are so many amazing people that live and work here and they genuinely want to see the place they live continue to get better and more fun! From my experience, it's rare to find a community where so many are eager to give back and make an effort to leave something better than they found it. Brainstorming with them about unique events, creative ways to promote the region, and the future is so exciting. An added bonus is getting to see the effort we make turn into real change.
What's the most played song in your playlist?
This is a tricky one. I mostly listen to NPR and Podcasts. But when I'm at home listening to the record player some of my favorites are Lauryn Hill, Beastie Boys, and Mumford & Sons. I like variety!
What super power would you like to have?
I've always flip flopped on this one. One I made up is being able to close your eyes and think of a place and then open them and you're there. The other I've always thought would be cool is to be a shape shifter like Mystique from X-Men.
What are you reading right now?
I just finished The Goldfinch by Donna Tartt. It was about a boy dealing with the untimely death of his mother and then it sort of worked its way into being about black market art, drugs, and the Russian mafia. It's a complex book (and 800 pages) but really good if you're okay with dark topics. I generally love any historical fiction.
Where's your favorite place to play in the Roanoke Region?
As one of the outdoor gurus at the Partnership I can't pick just one place. My top 3 favorite places/things are: 
Stand-up paddleboarding on the Roanoke River or at Carvins Cove
Hiking Tinker Cliffs (it's like McAfee Knob but less crowded and a little more challenging)
Riding my bike from my house at the base of Mill Mountain and up onto the Blue Ridge Parkway
Connect with Julia on LinkedIn.