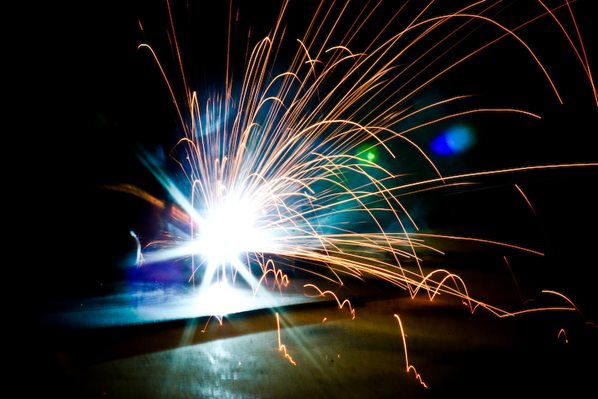 Governor Terry McAuliffe today announced that Botetourt Technical Education Center is now accredited by the American Welding Society (AWS). It is the first time that a high school welding program in Virginia has earned the nationally recognized AWS accreditation, which is currently held by only five postsecondary education institutions in Virginia and only 18 other high schools in the United States. 
 
Recognizing the value of an AWS accredited program to regional jobs and business growth, the Botetourt Education Foundation drove public-private funding and support for the welding program, including winning a $200,000 award in 2015 from the Governor's Competition for Talent Solutions. The annual competition launched by Governor McAuliffe spurs business engagement and fiscal investment for business-led workforce solutions.    
 
"With more than 100 companies in the Roanoke Valley using welding in their business processes, it's imperative that the region have a ready and reliable source of workers with the high-tech skills required," said Governor McAuliffe.  "I am delighted that our administration was able to play a part in making this nationally recognized advanced welding lab available to the high school students at the Botetourt Technical Education Center as part of our work to build a new Virginia economy."
 
In addition to providing county high school students career and technical education and training for globally recognized certifications, the welding program will also serve students and workforce training participants of Dabney S. Lancaster Community College, as well as incumbent workers of regional manufacturing companies seeking to update and certify their welding skills.  
 
"I congratulate Botetourt Technical Education Center and its public and private partners for ensuring that high school students will graduate with credentials for in-demand jobs that pay great wages with opportunities for growth," said Secretary of Commerce and Trade Maurice Jones. "The welding skills Botetourt's students are developing apply to 19 different occupations in manufacturing and trades, and even to commercial diving." 
 
"The Botetourt Education Foundation is very proud to be able to add an important piece to workforce development in Virginia, which would not have been possible without major contributions from many sources," said John R. (Bob) Patterson, President of the Botetourt Education Foundation. 
 
"We need our students gaining the kind of in-demand skills that will make them competitive in the 21st century workforce, and this accreditation is a step in the right direction," Secretary of Education Dietra Trent said. "This accomplishment is proof of what can happen when a community comes together to ensure that the next generation has access to the resources they need to be successful."
 
"This project is an example of the great collaboration happening today in our region," said Delegate Terry Austin. "The Botetourt Education Foundation, private industry, Dabney S. Lancaster Community College, Botetourt County Public School Division and the Governor's administration all contributed to this successful program. As a result, public school resources will extend into the community and provide a well-trained workforce for industry."
 
High school students enrolled in the welding program at Botetourt Technical Education Center last year earned 44 AWS and other manufacturing related certifications, including AWS credentials in Flux Cored Arc Welding and Gas Metal Arc Welding (also known as MIG welding). 
 
Contributors to the welding center include: Dynax America Corporation, Tread Corporation, Gala Industries, Roanoke Cement Company, Bank of Botetourt, Dabney S. Lancaster Community College, the Altec Foundation and the Alleghany Foundation.