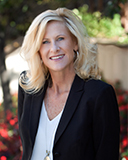 ROANOKE, Va., (October 12, 2016) – Ann Blair Miller has been named director of business investment for the Roanoke Regional Partnership. She is responsible for all project management as well as designing and implementing business recruitment strategies for the Roanoke Region.
 
Miller joined the Partnership staff in 2002 and most recently was director of project management a role in which she helped bring businesses such as Ardagh Packaging, Deschutes Brewery, Eldor Corporation, and Ballast Point Brewing & Spirits to the region.
She is a past president of the Virginia Economic Developers Association (VEDA) and 2015 recipient of the Cardinal Award bestowed by VEDA for leadership in the field of economic development.
 
As VEDA president, she served on Governor Terry McAuliffe's Transition Team for Commerce and Trade in 2013. She currently serves on the Virginia Energy Council.
 
Miller is a graduate of Radford University, the Virginia Institute for Economic Development, and the Economic Development Institute (EDI).  She has completed course work with the International Economic Development Council (IEDC) and the University of Shopping Centers.