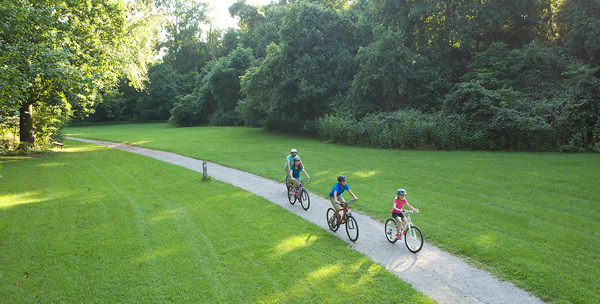 Outdoor amenities and immense livability were two reasons Deschutes Brewery selected the Roanoke Region for its East Coast operations.
The value of the region's soft assets is not all anecdotal; new research from the Gallup-Healthways partnership suggests the Roanoke Outside model is right on target.
Communities that invest in bike paths, parks and recreational assets, as well as in infrastructure that improves walkability have demonstrably better outcomes in important areas of health for their residents, according to the Gallup-Healthways report "Active Living Environments in U.S. Communities."
The Roanoke Region is doing just that by actively investing in greenways, bike paths, bike amenities, parks, and working to activate the outdoor infrastructure of Roanoke through unique events such as the Blue Ridge Marathon and Roanoke GO Outside Festival and new amenities such as the downtown kayak launch.
The report found that increasing an area's bike-friendliness and/or investing in parks and recreational programs were significantly correlated (with 99% confidence) with lower obesity, lower diabetes, lower rate of high blood pressure, lower rate of heart attack incidence, lower smoking rate, daily healthy eating, and active and productive feelings. 
The communities that scored highest in active living environments (walkable, bike-friendly, investments in parks) had an average Gallup-Healthways Well-Being Index Score of 62.1, placing them all in the top 40 percent of community rankings. The Roanoke Region has a Gallup-Healthways Well-Being Index score of 62.5, better than 75 percent of the communities studied. 
Roanoke Outside, as it works to enhance the outdoor community of Roanoke, is contributing to better health for residents and the workforce. As the message of all the great things going on in the Roanoke Region spreads, individuals who are health-conscious increasingly will be attracted to the area.
Find the full report from Gallup-Healthways.
| REGION | SCORE |
| --- | --- |
| Roanoke, VA | 62.5 |
| Greenville, SC | 62.4 |
| Charlotte, NC | 62.3 |
| Richmond, VA | 62.0 |
| Winston-Salem, NC | 61.8 |
| Nashville, TN | 61.6 |
| Atlanta, GA | 61.5 |
| Chattanooga, TN | 61.4 |
| Greensboro, NC | 61.3 |
| Hampton Roads, VA | 60.9 |
| Knoxville, TN | 60.6 |
| Savannah, GA | 60.5 |
| Fort Wayne, IN | 60.3 |