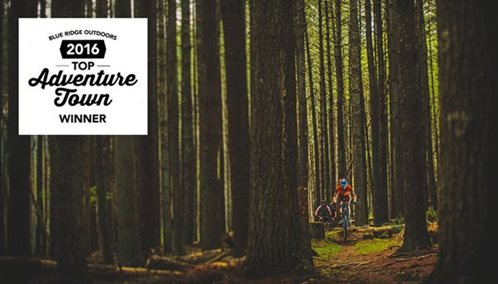 Top Adventure Town has a nice ring to it. And it's a moniker we can use all year long. Roanoke is the 2016 Top Large Size Adventure Town winner in the annual ranking from Blue Ridge Outdoors Magazine.
The region beat out 47 other contenders and topped Virginia Beach, Chesapeake, Baltimore, and Knoxville in head-to-head voting. What makes the win even more impressive is that Roanoke won the large town category, despite competition from locations more than double our size. (That just goes to show how much you love Roanoke!)
The region has earned top town honors four of the last five years as Top Mid-Sized Town in 2015, Best Trail Town in 2013 and was voted Best Mountain Town in 2012.
"Everyone else is really starting to notice what we've known about the Roanoke Region for a long time," says Pete Eshelman with the Roanoke Outside Foundation. "There aren't too many places with such easy access to such a diverse offering of outdoor recreation opportunities."
Here's what the magazine had to say about Roanoke:
"Drive through Roanoke tomorrow and you'll see runners along the Roanoke River Greenway, cyclists heading up Mill Mountain, and kayaks on roof racks."
A community invested in the outdoors is more than just good for the adventure-seeker. Recent research shows that communities like Roanoke that invest in invest in bike paths, parks and recreational assets, as well as in infrastructure that improves walkability have demonstrably better outcomes in important areas of health for their residents. (Learn more.)
Earning recognition from a publication such as Blue Ridge Outdoors helps, too! It helps spread what we already know in the Roanoke Region to people in other locations that may not know what a hopping outdoor spot this is.
You can read the full feature from Blue Ridge Outdoors in the November issue.