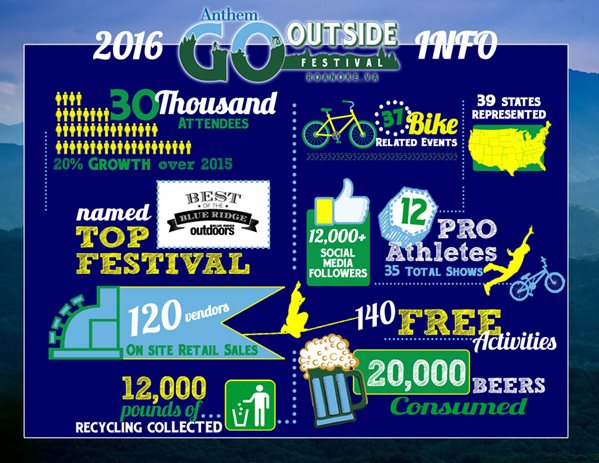 When the Roanoke Regional Partnership and Roanoke Outside founded the Anthem GO Outside Festival with Roanoke Parks and Recreation six years ago, the aim was to build a festival that would leverage our outdoor reputation to attract business and investment.
We were on to something.
This year's festival was the biggest to date with record crowds turning out to celebrate the outdoors and the Roanoke Region's active lifestyle. Attendance was up 20 percent with more than 30,000 people.
National manufacturers from Keen to The North Face were a few of the 120 vendors on hand for the three-day event in October, many sending company representatives to the region for the first time. This provides an opportunity for even more people to see what the region has to offer.
VIP "Glamping," one of the newest additions to the festival, was a major hit. All of the tents sold out, allowing campers to stay on site all weekend in style. The remainder of the GO Fest "campground" was larger as well with plenty of people taking advantage of the stay-all-weekend option.
Deschutes Brewery was also on hand and brought Woody, a barrel-shaped mobile tavern, and sponsored the first craft beer dinner at GO Fest with River and Rail.
Proceeds from both of these events support the Roanoke Outside Foundation.
There were plenty of other milestones this year as well:
Festival-goers consumed 20,000 beers, surging past the previous mark of 12,200 pints
The founders of FloydFest took the music to the next level, with acts including Karl Denson's Tiny Universe
The festival was named Top Festival in annual Best of the Blue Ridge voting by Blue Ridge Outdoors magazine
120 vendors were on site, providing a boost in retail sales
12,000 pounds of recycling were collected and thanks to water stations 4,500 water bottles were diverted from landfills
Festival-goers participated in 140 free activities
12 professional athletes performed in 35 shows
People came from 39 states to attend the event
Huge thanks to you and the Roanoke Regional Partnership investor partners for making GO Fest such an overwhelming success.
Anthem
Carter Machinery
Carilion Clinic
Cox
WDBJ7
Roanoke
Roanoke County
Franklin County
We are already looking forward to next year. Mark your calendars for Oct. 20-22, 2017.