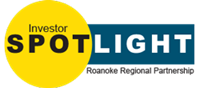 Hourigan Construction has built a reputation of excellence serving the construction needs for a variety of markets including commercial, institutional, manufacturing, and healthcare. Through a consultative approach that anticipates clients' needs and delivers best practices for their success, Hourigan is known for making the complex seem simple.
Using Building Information Modeling (BIM) technology, exacting precision starts during preconstruction and continues through final closeout — providing clients with greater certainty of cost, schedule and quality. The firm holds both a Virginia Class A License and a North Carolina Unlimited License. Hourigan Construction operates throughout the Mid-Atlantic, with offices in Richmond and Virginia Beach.
Why has your company invested in the Roanoke Regional Partnership?
The many assets of the Roanoke Region are attracting companies from around the world. Through collaborative partnerships, we look to bring quality construction services and offer solutions that support the local economy and help the region grow.

Company information
Top local officials: Mark Hourigan, President/CEO; Todd Donaldson, Executive Vice President; Brad Hulse, Senior Vice President; Michael Henley, Client Solutions Manager
Phone: 804-282-5300 (Richmond), 757-499-3434 (Virginia Beach)
See our full list of investors by industry.