There's good news on the jobs front. Employment is growing in the Roanoke Region.
The Roanoke metro market saw private sector employment increase by 2,500 workers from October 2015 to October 2016 and total employment is at the highest level of any October since 2000, according to the data from the Bureau of Labor Statistics. Unemployment in the Roanoke MSA is at 4.1 percent as of October 2016.
Private sector employment increased by 1.8 percent from October 2015 to October 2016 in the Roanoke MSA, which surpasses the national growth rate (1.7 percent) for private sector employment over the period.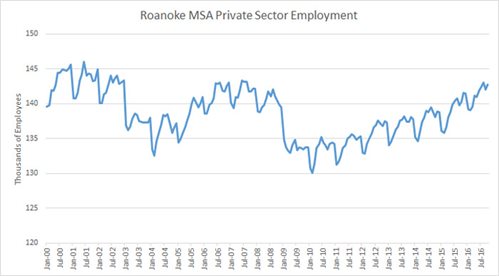 Employment gains were mainly in education, health services, professional and business services, and leisure/hospitality. 
The region is poised for continued growth. More than 1,300 jobs have been announced in 2016 from projects such as Deschutes Brewery, Eldor Corporation, Virginia Community College System, Virginia Tech Carilion Research Institute, and Ballast Point Brewing & Spirits among others.