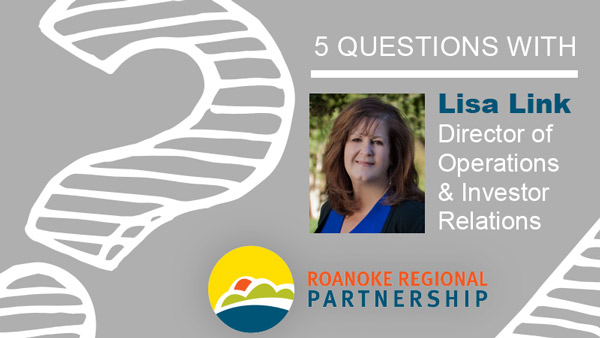 Lisa Link ensures that everything comes off without a hitch. She handles the details . . . coordinating investor meetings, prospect visits, accounting, and keeping the office running smoothly. Lisa joined the Partnership in 2010, after 13 years at the Roanoke Regional Chamber as vice president of membership and member services.
Get to know Lisa in her own words.
What's the best part of your job?
Working with a team that loves our area and works to grow the area.
What's the most played song in your playlist?
I actually listen to music all day long. It's the soothing background noise that helps me move through the day (even if I'm not always listening). This was a tough one, but Ed Sheeran's Thinking Out Loud always seems to catch my attention.
What super power would you like to have?
It would be great to have the ability to be in two places at the same time.
What are you reading right now?
Night by Elie Weisel. Wiesel won a Nobel Peace Prize in 1986 and this book is his memoir that details his guilt and feelings with surviving the Holocaust. It's heavy, but important reading.
Where's your favorite place to play in the Roanoke Region?
The Blue Ridge Parkway remains one of my favorite spots years after coming to the region. Growing up in California, nature isn't as colorful as it is here. From the greens of trees to the actual blue in the Blue Ridge Mountains, I continue to be in awe of nature's beauty.