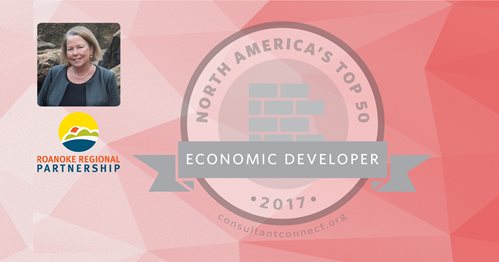 Roanoke Regional Partnership Executive Director Beth Doughty is one of the top 50 economic developers in North America.
This is the third consecutive year Doughty has made the list compiled by Consultant Connect.
Each top 50 economic developer will be featured in an ebook later this year. These industry leaders will share their expertise in the field and leadership insights they've learned along the way.
Consultant Connect, a consulting agency designed to bridge the gap between economic developers and site consultants released the 2017 list of North America's Top 50 Economic Developers. The economic development professionals selected for this list were nominated by their colleagues in both the economic development industry and the site consultant community for excellent practices, innovation and success in building the communities they serve.
"This annual list recognizing North America's Top 50 Economic Developers is designed to acknowledge the hard work of the top leaders in this field and elevate the conversation around economic development and job creation," said Ron Kitchens, managing partner of Consultant Connect. "Each of the leaders represented on this year's list are beyond deserving of this recognition for their efforts in building our communities."
The complete list of North America's Top 50 Economic Developers includes:
Abby Liu, McKinney Economic Development Corporation, Texas
Ben White, Round Rock Chamber
Benjamin Teague, Economic Development Coalition for Asheville-Buncombe County
Bentley Story, Arkansas Economic Development Commission
Beth Doughty, Roanoke Regional Partnership
Brad Smidt, Greater Phoenix Economic Council
Brian Hilson, Birmingham Business Alliance
Buddy Rizer, Loudoun County Department of Economic Development
Carrie Chenery , Shenandoah Valley Partnership
Cathy Chambers, JAXUSA Partnership
Chris Wimsatt, Team Volusia Economic Development Corporation
Clark Krause, BVEP
Clay Walker, NETWORKS Sullivan Partnership
Dan Culhane, Ames Chamber of Commerce & Economic Development
Dan Henderson, Gilbert, Arizona
Deborah Price, Missouri Partnership
E. Ray Covey, AEP Texas
Gary Tonjes, Albuquerque Economic Development, Inc.
Gene Goddard, Greater MSP
Gregg Simon, Metro Atlanta Chamber
James Otterstein, Rock County, WI
Jessica Breaux, TVA
Jim Paetsch, Milwaukee 7
Juawana Colbert Williams, Fayetteville-Cumberland County Economic Development Corporation
Julie Sullivan, Dayton Development Coalition
Kati Hynes, Charlotte Chamber
Keith Gillenwater, EDG of Wabash County
Kimm Coyner, REDI Cincinnati
Kurt Foreman, Greater Oklahoma City Chamber
Larry Barnett, Midlothian Economic Development
Lee Crume, Jobs Ohio
Lucienne Pears, Charlotte County EDC
Mark Young, Jonesboro Ark Chamber of Commerce
Matt McQuade, Columbus 2020
Megan Lucas, Lynchburg Regional Business Alliance
Mike Rosa, Dallas Regional Chamber
Mitchel Allen, Greater Phoenix Economic Council
Pandy Brazeau, Virginia Economic Development Partnership
Patrick Murphy, Alabama Power
Patty Horvatich, Pittsburgh Regional Alliance
Rob Cleveland, Cornerstone Alliance
Robert Van Geons, Fayetteville-Cumberland County Economic Development Corporation
Susan Davenport, Gainesville Area Chamber of Commerce
Susie Davidson, Idaho Commerce
Tim Vanderhoof, Enterprise Florida
Tom Long, San Antonio EDF
Tony Kaai, Denison Dev. Alliance (Denison, TX)
Tricia Paesani, CT Department of Economic and Community Development
Vanessa Goeschl, Charlotte Regional Partnership
Walter Sprouse, Augusta Economic Development Authority
RELATED