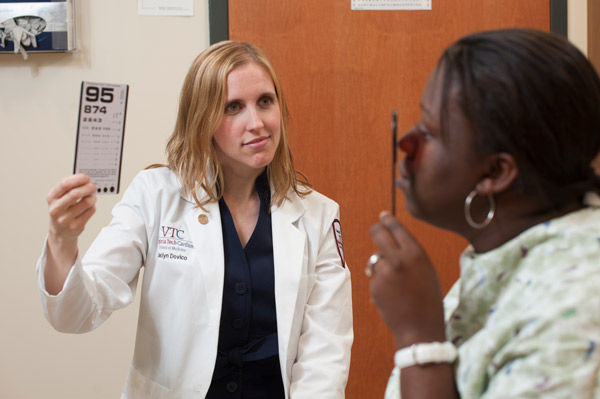 Virginia is the top state for higher education, according to personal finance website SmartAsset in its third annual ranking.
And the Roanoke Region helped push the state to the top of the list in a major way with 25 colleges and universities within a one-hour radius including Virginia Tech, Virginia Western Community College, Roanoke College, Hollins University, Virginia Military Institute, Washington and Lee University, and Liberty University. The Virginia Tech Carilion School of Medicine and Research Institute, which is home of the world's most ambitious study of the brain, 21 research teams, and 140 researchers, is located in downtown Roanoke. It has announced an expansion that will double the number of research teams on campus.
(You can find the full list of area colleges and program descriptions here.)
Total higher education enrollment – undergraduate, graduate, and professional – in the Roanoke Region tops 104,000. On a per capita basis, the region has more college students than Austin, Boston, Raleigh-Durham, and other well-known centers of higher education.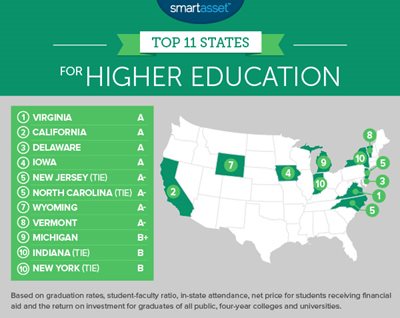 SmartAsset ranks states based on metrics such as undergraduate graduation rate, average net price, 20-year return on investment, and student to faculty ratio. According to SmartAsset's research, Virginia's graduation rate is 70 percent, student/faculty ratio is 15.75 to 1 and average price is $16,886.
From the key findings: "Virginia is No. 1. Each time we look at the best states for higher education, Virginia appears in the top 10. It ranked second in both the 2015 and 2016 edition of our analysis. But this year, Virginia took the top spot."
Rounding out the top five were California, Delaware, Iowa and a tie between New Jersey and North Carolina. See the full ranking from SmartAsset.