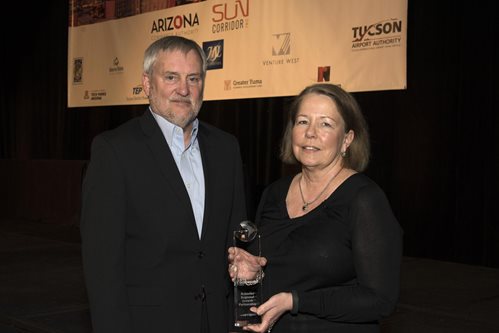 The Roanoke Regional Partnership was recognized for its work on the Deschutes Brewery project with a 2017 Excellence in Economic Development Award from the Site Selectors Guild. The award was presented to Executive Director Beth Doughty at the Guild's annual conference March 15 in Tucson, Arizona.
"This is great recognition for our region but it also rewards the teamwork involved in bringing Deschutes to Roanoke and Virginia," Doughty said. "The list of partners in this project is 50 names long but special appreciation goes to Governor Terry McAuliffe, Roanoke City Council, City Manager Chris Morrill, Roanoke Economic Development, Roanoke Parks & Recreation, and the Virginia Economic Development Partnership. The Western Virginia Water Authority, Appalachian Power, RGC Resources, Norfolk Southern, and Balzer and Associates also were key members of the team.
"This was a four year process and had many challenges," she said. "Success would not have been possible without such incredible community support. We've never worked on a project that generated so much enthusiasm and excitement."
The nomination, by Guild member Don Schjeldahl of DSG Advisors, commended the team for learning from being runner-up on the Sierra Nevada deal that went to Asheville, N.C., and using that knowledge to earn Deschutes.
The Roanoke Regional Partnership had a record-breaking year in 2016.
Announcements of jobs and investment in 2016 included:
Eldor Corporation to build $75 million facility with 350 jobs
Virginia Community College System to create shared service center location and 200 jobs
Ballast Point Brewing to build $48 million facility with 178 jobs
Deschutes Brewery to build $85 million facility with 108 jobs
Staybridge Suites to build and create 60 jobs
Arkay Packaging expansion with 60 new jobs
Fleetwood Homes expansion with 100 jobs
Integrity Windows expansion with 60 new jobs
Canatal Steel USA expansion with 38 new jobs
The Site Selectors Guild is the only association of the world's foremost professional site selection consultants. Guild members provide location strategy to corporations across the globe and for every industry, sector, and function.