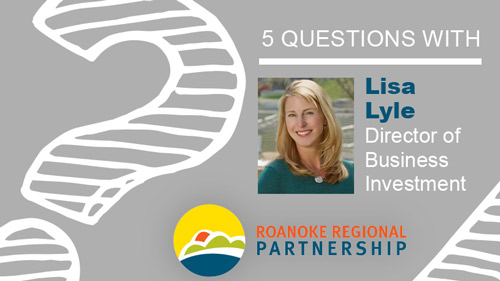 Lisa Lyle recently joined the Roanoke Regional Partnership as director of business investment. In her new role, Lyle will direct the business attraction and expansion program of the Partnership. She joins the Partnership from Martinsville-Henry County Development Corp., where she served as director of marketing and recruiting since 2011. During that time she coordinated a regional rebranding and worked with projects that led to $193 million in investments and 1,533 new jobs.
Get to know Lisa in her own words.
What's the best part of your job?
I love the diversity of the companies and projects that I work with. 
What's the most played song in your playlist? 
Lately, it would be Shape of You by Ed Sheeran. But overall it would be Soulshine (live) by Warren Haynes.
What super power would you like to have?
I'd like to have endless energy.
What are you reading right now?
The Chemist by Stephanie Meyer. 
Where's your favorite place to play in the Roanoke Region?
My favorite place for fun is downtown Roanoke. I love the energy, arts and culture, and music. I also enjoy the abundance of greenways in the region.