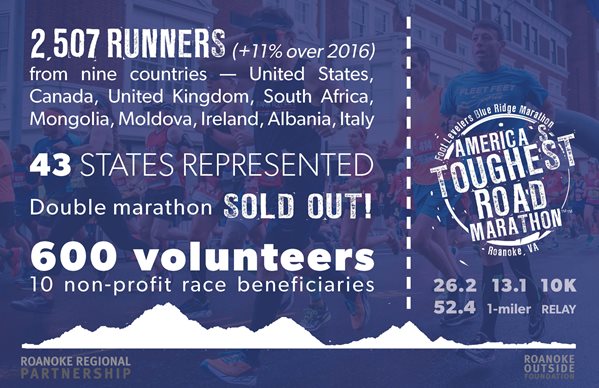 America's Toughest Road Marathon just keeps getting bigger.
And participants have great things to say about the 2017 Foot Levelers Blue Ridge Marathon, even though it was a little damp.
Runner Elizabeth R. Bain of California, said this about the race in The Roanoke Times: "What really made this course shine (besides the gorgeous views from the tops of the mountains)? YOU, Roanoke! From the volunteers handing out bibs and shirts at packet pick-up, to the mimosa 'aid station,' to the guy driving the bus where I took my DNF [did not finish], everyone was so kind and friendly! Even though I'm a slow, back-of-the-pack runner, every aid station had cheers and cowbells and plenty of aid station supplies for me."
Chuck Engle, the Marathon Junkie from Ohio, has run more than 400 marathons all over the world but took on our course for the first time this year. His colorful post-race commentary on Facebook is entertaining, and he's already committed to tackling the course again in 2018. 
Here are some of the highlights:
2,507 registered runners (11% increase over 2016)
Sold out the first official double marathon
Nine countries represented: United States, Canada, United Kingdom, South Africa, Mongolia, Moldova, Ireland, Albania, Italy
43 states represented
As the race continues to grow, so does the effect on the region's economy. Runners from the eighth annual event are being surveyed to measure this year's impact. In its first seven years, the marathon contributed more than $3.2 million to the regional economy.
Start training now for the 2018 race, scheduled for April 21.