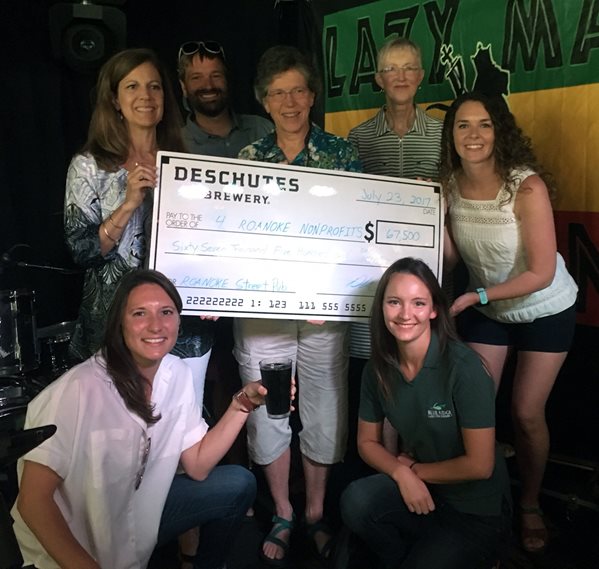 The Deschutes Street Pub on July 15 in Roanoke was the biggest event ever on the nationwide tour. The Roanoke stop drew more than 25,000 people and kicked 269 kegs in just eight hours, topping the previous record set in our region last summer.
Plus, all that drinking raised $67,500 for four local nonprofits. Deschutes Brewery presented the check during a beer brunch July 16.
The Roanoke Outside Foundation put in many hours as the pub's local organizer and helped coordinate the more than 300 volunteers who worked the event. Local nonprofits benefiting from all this are the Roanoke Outside Foundation, Blue Ridge Land Conservancy, Pathfinders for Greenways, and Bradley Free Clinic.
"The heartbeat and mission of Street Pub is to bring the community together in a big way and you all played an invaluable role in helping this program make such a giant impact in the Roanoke Valley and beyond," said Joey Pleich, Deschutes Brewery field marketing manager.
The Street Pub is free and is a giant, family-friendly one-stop shop for beer tastings. Deschutes Brewery had 50 taps with plenty of brews to taste, including favorites and special taps. There were also special kegs with brews from other local breweries. The Street Pub visits cities around the country and this was the second stop in Roanoke. (Both Roanoke stops have shattered Street Pub totals for number of kegs consumed in one day.)
"The Street Pub is about more than sampling tasty beer," said Pete Eshelman, director of the Roanoke Outside Foundation. "It gets people outside and brings them together; it's just another example of the outdoor, active culture of the region."
The success of the Deschutes Street Pub and the money raised is just one more example of how the Roanoke Regional Partnership, creator of the Roanoke Outside Foundation, generates economic impact in the region. Deschutes Brewery plans to build an $85 million manufacturing facility in the Roanoke, a project that the Partnership worked on for four years.