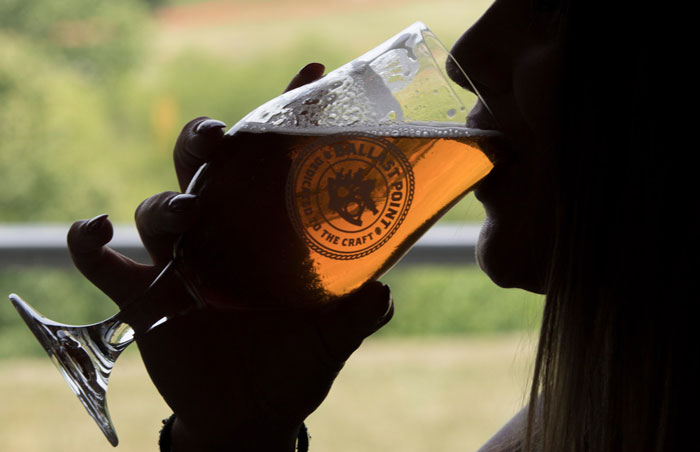 Beer means business in the Roanoke Region of Virginia.
Ballast Point Brewing Company recently opened a Tasting Room & Kitchen and the first kegs of beer – the signature Sculpin — have been produced at the new manufacturing and distribution facility.

And the beer is right on target.
"So far, they've nailed it," general manager Mike Alvarado said of the first round of beer-making.
The East Coast operation will produce beer for the site, across the East Coast and for locations in Europe, Asia, and Couth America when operations reach expected capacity, with a goal to handle about 40 percent of the company's distribution.
The Tasting Room & Kitchen will accommodate around 200 for lunch and dinner, seven days a week in both fast casual and table service formats. There also is a 100 person banquet room and a 14 tap growler filling station.
"This is an attractive asset for people who live here and a major draw for tourists," said Jack Leffel, chairman of the Botetourt County Board of Supervisors.
Ballast Point's East Coast brewing operation will include 100 and 300 barrel systems that will enable the company to produce more than 50 styles of beer. The company employs 47 in the Tasting Room & Kitchen and will employ about 145 in manufacturing and associated functions.
Ballast Point isn't the only major craft beer producer with ties to the Roanoke Region. Deschutes Brewery of Bend, Oregon, has also announced plans to open and manufacturing and distribution facility in the region and is opening a tap room this month. Starr Hill is also opening a new pilot brewery in the coming weeks. Plus, regional breweries Parkway Brewing and Big Lick Brewing are undergoing expansions.
The excitement surrounding Deschutes Brewery and Ballast Point Brewing, plus the success of regional breweries and their concentration in the area has given rise to a micro-economy centered on craft beer. Roanoke features commercial and self-guided beer tours, and plenty of beer and spirits festivals.
The region is home to 25 breweries in a growing food and beverage cluster.