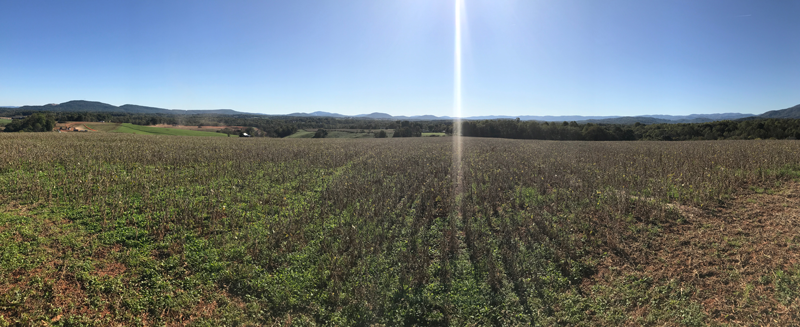 ROCKY MOUNT, Va., (Oct. 19, 2017) – Franklin County today broke ground on the 550-acre Summit View Business Park, creating new sites for potential new businesses and jobs while providing residents with additional recreational options.
The first phase construction, estimated at $9.7 million, is expected to be completed by June and includes grading two building pad sites, one 5 acres and another 25 acres, extending utilities, and building an access road connecting U.S. 220.
Eventually the project will include pavilions, athletic fields, BMX bicycle course, festival area, tourist visitor center, multi-use trails and more.
"This is just the first step of a long-term effort by Franklin County to create a new economic future for its citizens," said Franklin County Board of Supervisors Chairman Cline Brubaker. "The cutting-edge nature of the Summit View Business Park will allow the county to be a major player for a wide variety of economic development prospects looking for low costs of doing business, a skilled workforce, and ready-to-go building pads."
Economic Development Director Michael Burnette added: "The business park represents a substantial investment by the Board of Supervisors and our partners in the future of our community. After a year of intense planning, it is gratifying to see dirt moving and encouraging that the park is already drawing interest from prospective new businesses for the soon-to-be created pad sites as well as other sections of the park."
The county was supported by a number of partners in this project. They include:
The Virginia Tobacco Region Revitalization Commission
Virginia Department of Transportation
Western Virginia Water Authority
Virginia Brownfields Restoration and Economic Redevelopment Assistance Fund (VEDP)
Appalachian Power
VEDP Business Ready Sites Program
The Roanoke Regional Partnership and Del. Charles Poindexter have also provided invaluable support for the initiative.
Delegate Kathy J. Byron (R-Bedford), chair of the Tobacco Commission's Research and Development Committee said, "It is great to see Summit View Business Park open after all the hard work that has gone into its development. Summit View will be a strong asset as we work to attract quality businesses and the jobs they bring to Southside. I am glad the Tobacco Commission chose to support this important project."
New and expanding companies are encouraged to contact the Franklin County Office of Economic Development at (540) 483-3030 to learn more about the Summit View Business Park and what Franklin County can do to assist them