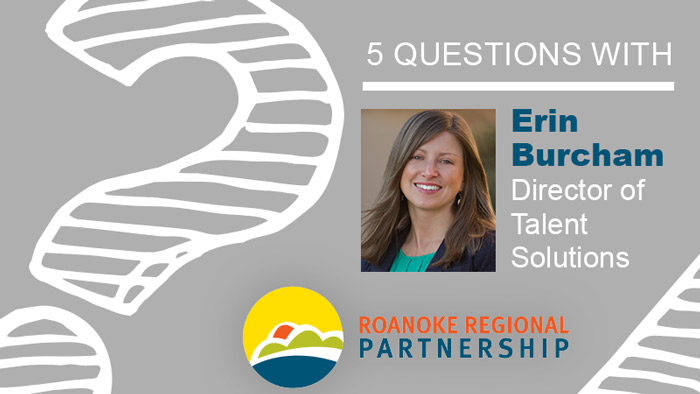 Erin Burcham recently joined the Roanoke Regional Partnership as director of talent solutions. In her new role, Burcham will direct a newly-created talent-attraction program that will contribute to the skilled workforce needs of area businesses.
Get to know Erin in her own words.
What's the best part of your job?
I really enjoy connecting people to the resources they need to be successful.
What's the most played song in your playlist? 
Although I love many genres of music, my go to is country. My favorite country song right now is Old Dominion – Break Up with Him (two band members are both originally from the Roanoke Region and played drums for their high schools, James River High School and Lord Botetourt High School).
What super power would you like to have?
Precognition – the ability to predict the future. I enjoy ideating but love to see ideas come into fruition. If I could predict the future, it would help to know where to spend more time.
What are you reading right now?
I just started The Power of Moments: Why Certain Experiences Have Extraordinary Impact by Dan and Chip Heath. This book explores why certain experiences can excite us, elevate us and change us. 
Where's your favorite place to play in the Roanoke Region?
Our favorite family hike is Bottom Creek Gorge. This is a beautiful hike that our 4-year-old daughter can do with us.