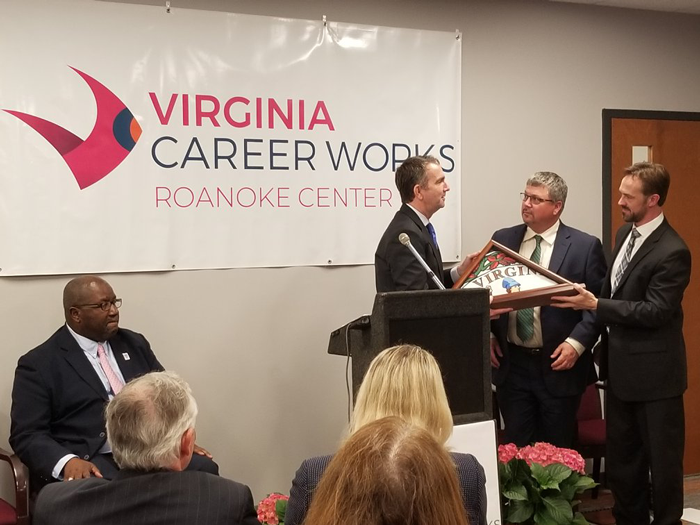 Job-seekers in the Roanoke Region have a new resource.
The first Virginia Career Works Center in Virginia opened on April 24 in the Roanoke Region. The location is 3601 Thirlane Road NW, Suite 2.
The new Virginia Career Works brand is an effort by the Commonwealth to bring together a variety of workforce development partners and programs. At the Virginia Career Works – Roanoke Center, nine partner agencies will be on site to answer questions and provide services to job seekers and businesses through over 25 different programs.
Partners include the Virginia Employment Commission (VEC), the Department for Aging and Rehabilitative Services (DARS), the Department for Blind and Vision Impaired (DBVI), ResCare Workforce Services, Region 5 Adult Education, Virginia Western Community College, Goodwill Industries of the Valleys, Total Action for Progress (TAP), and the Western Virginia Workforce Development Board.
Job seekers and businesses can find a variety of different services through the Virginia Career Works – Roanoke Center.
Job Seeker Services

Resource room for online job searching
Staff assistance with job search
Workshops for job readiness skills
Job matching services
Career counseling and resume development
Education and training resources
Special programs for target populations
Business Services
Free online job posting
Pre-screened job candidates
Local resources for training employees
Information hiring incentives and tax credits
Current and relevant labor market information
Local resources in economic development, finance, and marketing