A lot has changed since 1983.
Thirty-five years ago, the national average wage index was $15,239. The Betacam was revolutionizing video. And the Roanoke Region's economic landscape looked far more like its past than its future.
This month, the Roanoke Regional Partnership celebrates 35 years as a resource and advocate for businesses and individuals in the communities we serve. From its infancy in the 1980s, the Partnership has been an impassioned developer of modern economic development strategies. As industries changed and our economic landscape transformed, the Roanoke Regional Partnership created unique partnerships, foundations, and community events to highlight our region's contemporary economy. 
Today, we're bringing our family of brands closer with the incorporation of updated logo designs that refresh the individual program identities, while maintaining the brand equity these marks have established. We'd like you to be the first to see the Roanoke Regional Partnership's reinvigorated brand identity in support of our ongoing integrated marketing strategy for economic development. 
Dedicated talent attraction website launches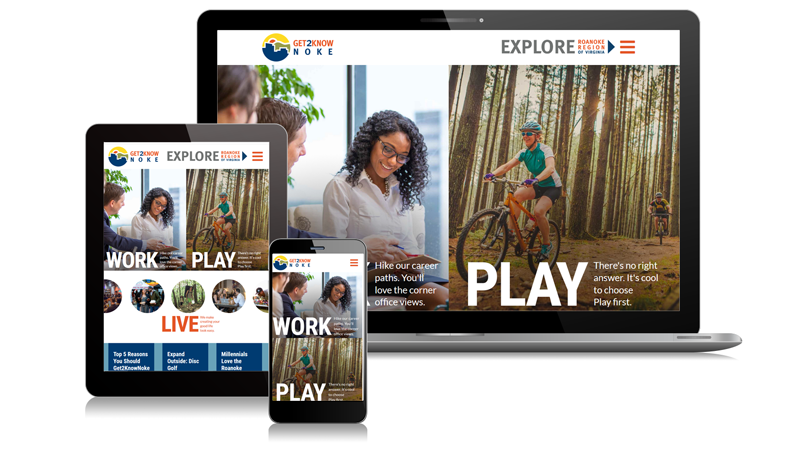 In coordination with these updates, the Roanoke Regional Partnership recently launched Get2KnowNoke.com, a professional development resource for job seekers. Divided into Work, Play, and Live sections, the site uses real people and businesses throughout the region to tell our community's story. Get2KnowNoke.com is specifically designed for job seekers who understand that you're not just climbing the ladder, you're choosing a community to call home. 
With your support of the Roanoke Region of Virginia, we've spent the last 35 years developing a 21st-century regional economic development organization that serves our community as a resource for market intelligence, an advocate for wage and job growth, as talent attraction experts, and through the development of a new community narrative as an active outdoor region.
Whether you have been impacted by the Roanoke Regional Partnership, Roanoke Outside Foundation, Get2KnowNoke or other community collaborations, we appreciate your continued interest in the natural resources, talented workforce, and livable communities that make our region unique.