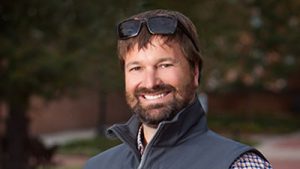 Pete Eshelman, director of outdoor branding for the Roanoke Regional Partnership, has been appointed to the Virginia Tourism Corporation board of directors by Gov. Ralph Northam.
Eshelman's appointment is not only recognition of the region's commitment to growing the outdoor industry but also an acknowledgment of the contributions of traditional economic development and tourism.
In 2009, the Roanoke Regional Partnership recognized that the region's natural assets are a strength that wasn't being used. Eshelman was hired to leverage our natural assets to attract investment and talent, while also changing the global image of the region. The Roanoke Outside Foundation is the most visible of the efforts; Eshelman is also director of the foundation.
Eshelman's appointment is recognition of the role the Roanoke Regional Partnership and Roanoke Outside Foundation have played in changing the narrative of the region to one that recognizes the outdoors as a community strength, with intentional efforts focused on building a community where people and businesses want to be.