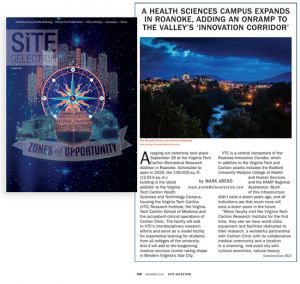 The Roanoke Innovation Corridor is featured in this month's edition of Site Selection magazine.
The feature highlights the expansions taking place at Carilion and Virginia Tech as well as other nearby innovation assets, such as the Radford University Waldron College of Health and Human Services and RAMP Regional Accelerator.
Roanoke Regional Partnership Executive Director Beth Doughty is also quoted:
It's not too soon to quantify the benefit this medical and innovation infrastructure is producing in the region. "The economic impact of the Virginia Tech Carilion Health Sciences and Technology Campus is already growing in size and importance," Doughty said. "Today, the campus supports nearly 1,700 high-tech jobs; that number is forecast to climb to more than 3,100 by 2016."
There's also significant economic output coming from within the innovation corridor with growth in the areas of research, student population, and startups.
Read the whole story in this month's edition
Earlier this fall, Roanoke was selected by the National League of Cities "City Innovation Ecosystem Program" as one of 47 cities to participate in partnerships to expand America's innovation economy. The focus area of this work is on the Innovation Corridor. 
Site Selection is an industry publication with a mission to publish information for expansion planning decision-makers — CEOs, corporate real estate executives and facility planners, human resource managers and consultants to corporations. You can find it in print and online.