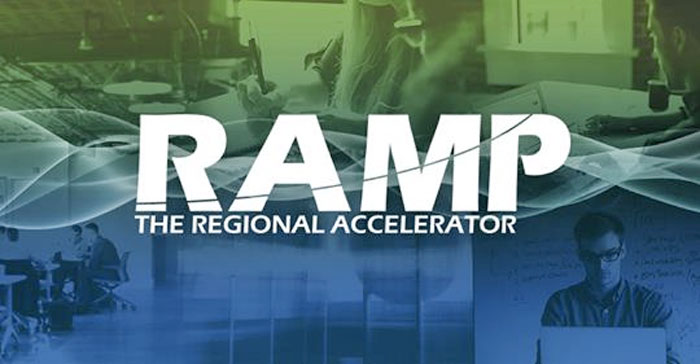 The RAMP Business Accelerator will welcome a third cohort in May with a $20,000 incentive that can be used to fund the development of health, technology, science, and engineering startups.
The Regional Acceleration and Mentoring Program plans to accept five companies for its 2019 cohort; each startup will receive an equal portion of a $100,000 pool of dedicated seed money. Unlike some accelerator projects, RAMP will not demand any equity in selected companies in exchange for the awarded capital.
"We know the financial support will be well received by our local entrepreneurs and may help draw companies into our region. If you are in Raleigh, Richmond or Charlottesville, we hope you might consider coming to be in our cohort," RAMP Director, Mary Miller said. "Our program is outstanding, and our region is very welcoming."
Launched in 2017, RAMP helps science, technology, engineering, math and health (STEM-H) early-stage companies test the viability of their products before entering the broader market. During the previous two cohorts, RAMP has graduated 12 companies that have created solutions to a diverse array of problems, including how clinicians can best identify alcohol-use disorder among patients and how construction companies can identify potential structural issues before breaking ground.
Applications must be submitted by March 15; interviews will be conducted with candidates in April. If selected, contenders will operate their businesses out of the Gill Memorial Building on South Jefferson Street in downtown Roanoke, where they will be given office space as well as free gigabit internet until May 2020. That building was renovated to serve as an accelerator space after its owner, the City of Roanoke, became one of RAMP's founding partners and received a $600,000 state-funded grant for the project.
Virginia Western Community College, another of RAMP's founding partners, will provide cohort members with three months of entrepreneurship training, beginning with a three-day boot camp and followed by an eight-week-long intensive course. Those classes will be taught by internationally recognized instructors Lisa Garcia and Mike Abbott, who also led the educational component for the 2018 program. Garcia and Abbott have additionally directed National Science Foundation I-Corps courses at Virginia Tech.